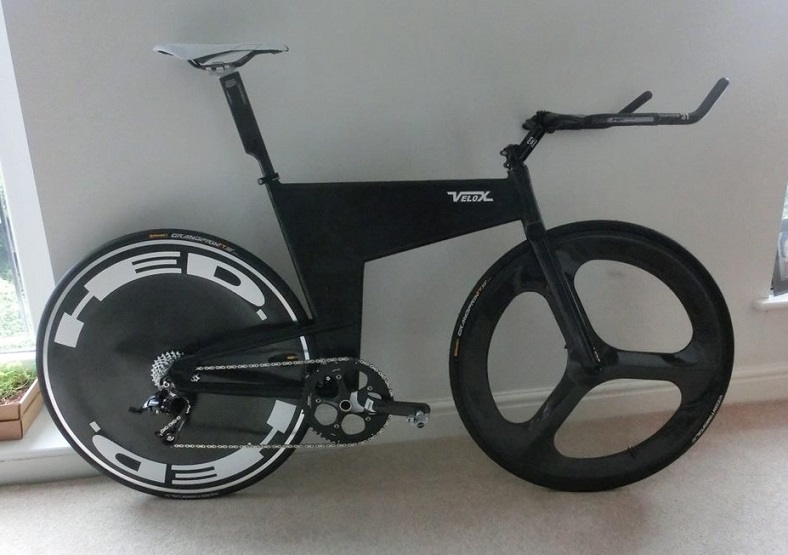 Back in the mid nineties, I remember being completely fascinated with Damon Rinard's "How I Made a Carbon Fiber Bike in My Garage" article (20+ years later, you should still check out the archive of his old Tech Pages if you never saw them, and read a recent interview with Rinard at Slowtwitch). I still enjoy seeing homebuilt carbon fiber bikes, and have posted a few reader submitted ones here at Bicycle Design over the years. Today, I want to share one more, a recent personal project by UK based mechanical engineer Richard Machin.
Richard's bike, which was inspired by classics like the Lotus 110 and Pinarello Espada, will serve as his personal time trial machine. Squeezing it in after his day job, Richard spent 8 months on the project, from the first CAD model to the initial test run.
See below for an explanation of the project in his own words.
"The main aim was to produce a light-weight frame with the lowest possible aerodynamic drag I could achieve, whilst still having the "traditional" riding position of a "conventional" bike which I consider to be much safer than a recumbent when being used on public roads. To achieve this, four main strategies were employed:
Remove frame elements where possible
Minimize the frontal area of remaining frame elements
Improve the cross-sectional shape of remaining frame elements
Shield components from the air flow by placing them behind other elements
 Examples of how these principles were applied include: Removing the downtube from the traditional bike shape and inclining the seat stays to an extreme angle which both decreases their frontal area and increases their length to width aspect ratio when measured in a horizontal plane (i.e. in-line with the air flow direction).  The rear brake sits nestled behind the chainset above the chainstays so it truly is hidden from the wind, not just out of sight as with some designs where they are underneath the chain stays.  The front brake isn't shown in the pictures but the intention is to get a set of forks with integrated brakes behind the fork arms.  At the moment I am using a Campagnolo U-Brake to achieve the same effect.
 As the bike will be used on flat Time Trial routes and velodromes only I dispensed with the small inner chain ring which also allowed me to avoid the use of a front derailleur. A small carbon fibre chain guard sits above the chain ring to stop the chain dropping off during gear changes.
 Obviously when you're going to all that trouble to design an aerodynamic frame you also want the best wheels you can find, which is why I went with a rear disc and front tri-spoke.  The disc wheel has a built-in PowerTap power meter so that I can actually measure the improvement in drag compared to my "conventional" bikes."
 The frame itself is a combination of aluminum (drop-outs, bottom bracket shell, head tube, seat post clamp area), and carbon fiber.  The carbon fiber parts were a mix of pre-made plates and tubes cut and bonded together with the aluminum parts to form the basic shape and then the whole thing was encapsulated in several layers of wet lay-up carbon fiber for integrity. "
For more information about Richard's bike, follow his Velox Facebook page, where he plans to post further updates about the bike and its development.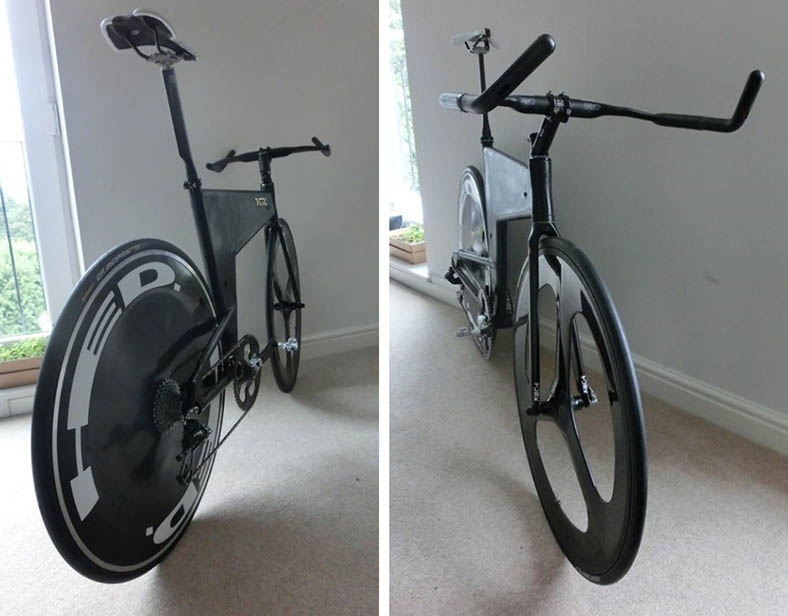 Subscribe to the email newsletter, and follow Bicycle Design on Facebook , Twitter , Pinterest , and Google + … and now on Instagram too!