In March, I introduced you to the transportation jury for the 2015 Core77 Design Awards . As mentioned in that post, we had a very talented group, and it was a great experience working with Torgny, Melissa, Rob, and Eric to select the winner, runners up, and notables in our category. Judging the professional and student entries was not an easy task, and we didn't always agree, but our long discussion on the judging day was quite interesting and enjoyable.  You can see the entries that we selected, and watch a video in which Eric, Rob, and I discuss them, on the Core77 Design Awards Transportation page (Sorry for the poor audio/video quality of the recorded Hangout, but it gets better after the introductions. I do tend to ramble the entire time though…can't blame the video quality for that).
In this post, I want to share the three bicycle entries that we selected in the professional category- Merge,  EVO Urban Utility Bike,  and SOLID. Before discussing them individually though, it is interesting to note that bicycles (specifically urban bikes) comprised the majority of the professional entries this year. Though the transportation category included all types of "vehicles, systems or modes of transportation used to get people or objects from one place to another", bike and pedestrian focused projects made up more than two thirds of the total entries that we received. There were a few boat and plane entries too, but surprisingly just a single automotive project. That was definitely not the mix I expected, but hopefully it does reflect transportation trends in general.
I won't go into great detail about the bikes we selected. I encourage you to click the links to the Core Design Award pages for each to learn more about the individual projects. With each design, there were details and ideas that we liked, as well as a few concerns that came up in our discussion. Several of those points from our jury discussion are mentioned in the video, but I would like to briefly share a few of them here.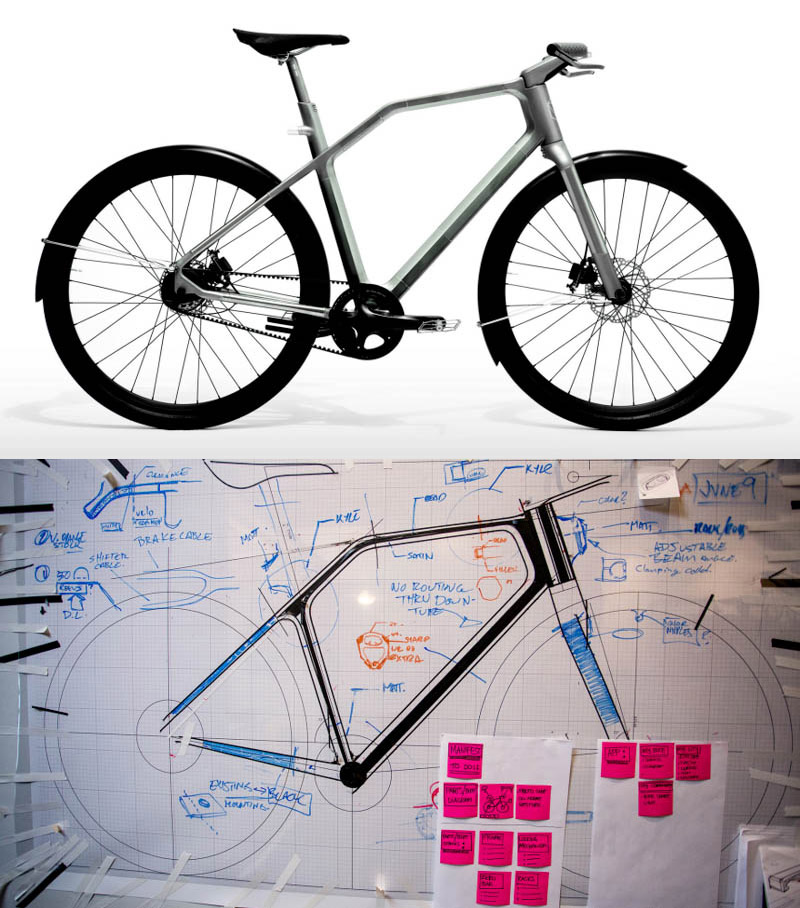 SOLID by Industry was one of the bikes that we selected as a Notable. Four out of the five jurors shortlisted this bike going into our discussion on judging day, and I initially had it at the top of my list. We all agreed that the styling was nice and that the 3D printed titanium construction was quite interesting from a manufacturing standpoint. Like many of the bike entries, this one featured Smartphone integration with an interesting app called "Discover My City" which encourages riders to discover the city of Portland through journeys curated by 5 local influencers.  Of particular interest to me, was the use of Bluetooth enabled haptic feedback in the grips, to provide the integrated turn by turn navigation without the need for the rider to take his or her eyes off the road.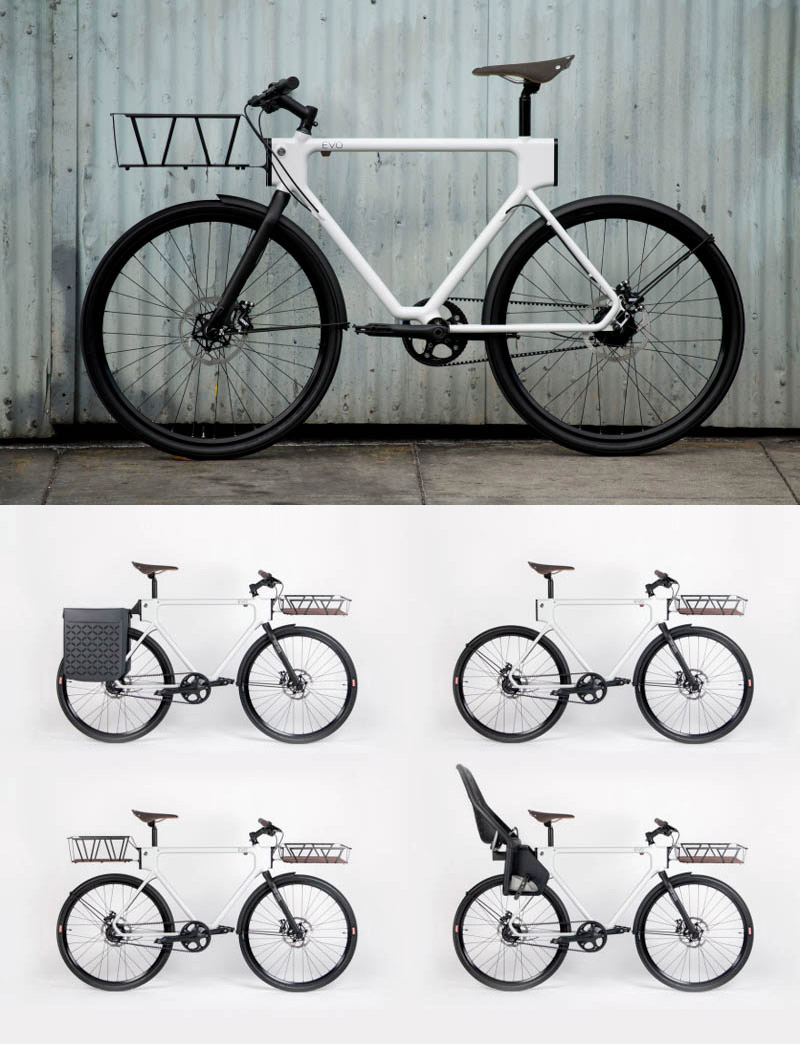 EVO Urban Utility Bike by Huge Design, 4130 Cycleworks, and PCH Lime Lab, was selected as a Runner Up in the professional category. All five of the jurors shortlisted this design, and we really liked the front or rear modular "quick connect" cargo accessory system. Out of all the bikes in the professional category, the EVO seemed to have the most focus on the idea of transporting cargo with its "heavy duty" interchangeable baskets and components. We also liked features such as integrated lights and locks, and the front fork lock to stabilize the bike as it is leaned against a wall for loading and unloading cargo.
Our biggest concern with the EVO was the 90 degree seat post angle. Adjusting the seat height straight up or down would impact the rider position and weight distribution, effectively placing a tall rider closer to the handlebars. That is a challenge with this symmetrical frame design, but we felt that the other innovative ideas outweighed that concern, which we felt would need to be addressed fro production.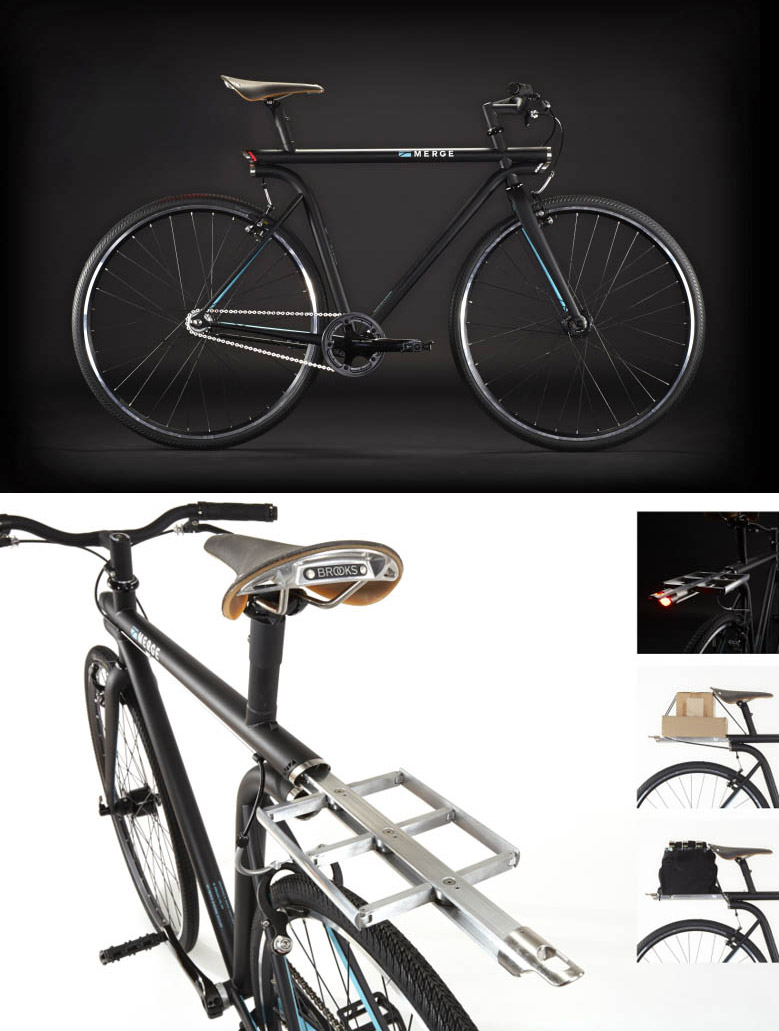 Merge by Pensa and Horse Cycles was the bike we selected as the overall winner. Like EVO, all five of us shortlisted this one. It has a nice, sporty design…though perhaps a bit male oriented like the SOLID. We liked the well thought out integrated features such as lights, locks, a rear fender, water, and USB charger/ resistant smartphone holder. The designers took a "Swiss Army Knife" approach to integrating the fender and rack, and the result is pretty clever. Our one concern with this bike was the durability and weight capacity of the rear rack. Overall though, we thought the Merge was a great solution for someone living in an urban environment, where rent is high and living space is at a premium due. The designers' stated goal was to create a bike for New York City that was "efficient, compact, and maneuverable." They recognized that "in some ways those attributes were at odds with the need for utility and cargo, but juxtaposing these opposing criteria led to an exciting and integrated solution." As a jury, we agreed:
"It's really well thought-out…Some of the innovation that we saw in there has not been done before. So that's leading to a really cool new category of bike use."
"What really caught my attention- everything just being so well integrated into a stylish, sporty, type of bike…It's a no compromise solution. It looks great, and it has all this utility at the same time."
That's it for the bicycle entries in the professional category (I'll save discussion of the student entries for another day). In addition to these three bikes though, I encourage you to take a look at all of the transportation honorees that we selected. After you have viewed each of them, you can vote for your favorite projects in the Core77 Design Awards' first ever Community Choice Award program.  If you don't completely agree with the jury's selection (and I suspect that a few of you fall into that category), this is your chance to vote for the designs that you believe are most deserving of an award. Feel free to share your thoughts in the comments too. If you disagree with the jury decisions… let us know why.
Subscribe to the email newsletter… and follow Bicycle Design on Facebook , Twitter , Pinterest , and Google + .