I have been running a bit behind this blog lately, but there are many interesting design submissions from readers in my inbox (thanks to all of you who have sent in tips or designs).  I will be in Miami for Maison & Objet Americas the rest of this week and won't likely have time to post, but before I go I want to quickly pass along a few interesting designs that I have recieved lately.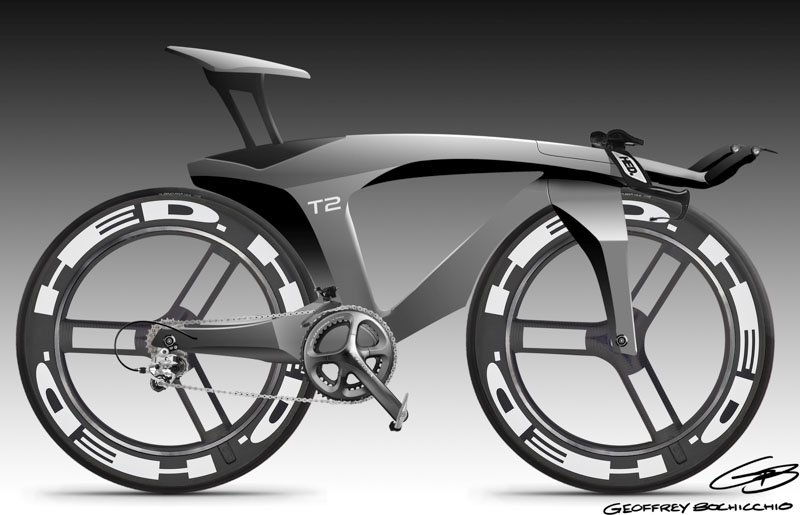 Geoffrey Bochicchio wrote in response to the recent post about the passing of Ilya Vostrikov.
"I'm really sad to hear the news since his work inspired me to create my own bicycle render a while back. This same work was used in my entrance portfolio at Art Center College of Design and I was accepted into their Product Design Program a year ago."
Geoffrey's Photoshop rendering of a time trial/triathlon bicycle can be seen above. He originally sketched the form with markers, and then scanned it to refine and add wheels and components.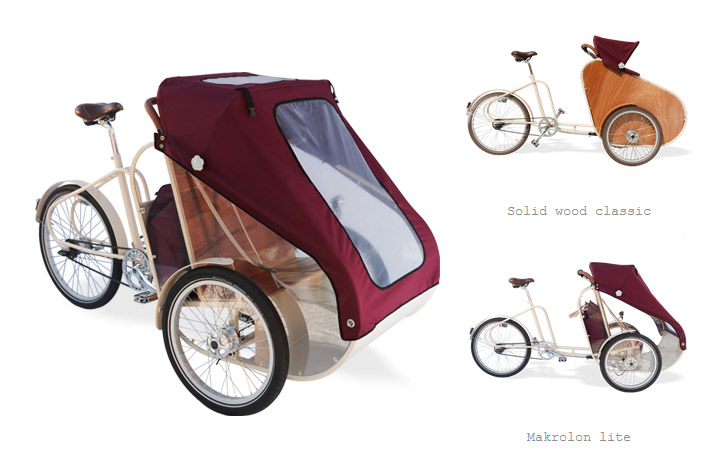 Steffen Mebes designed and developed a new child-carrying trike called the Michel Mobile. It is a great looking design…especially the version with the wood panel sides. See the website and this video on Youtube for more.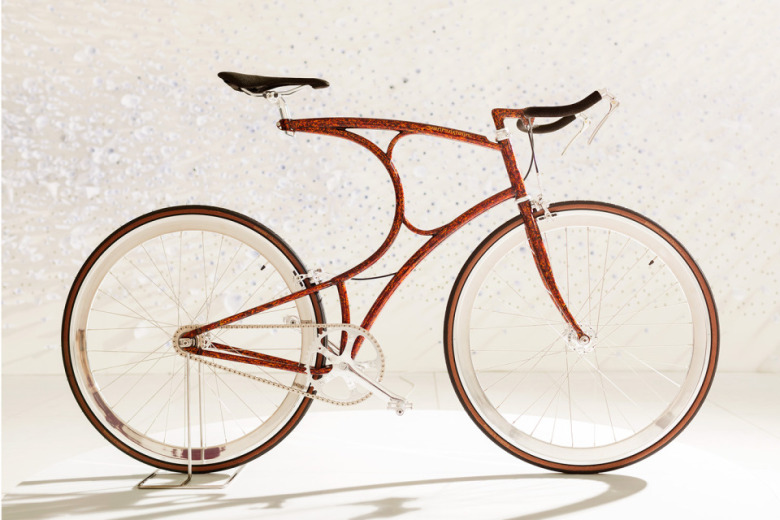 During the Salone del Mobile furniture fair last month, a 35000€ bike with a gold leaf finished frame was one a few Vanhulsteijn bikes on display in the Paul Smith Store in Milan. The process of finishing the bikes is interesting, as you can see in this older post at Road.cc.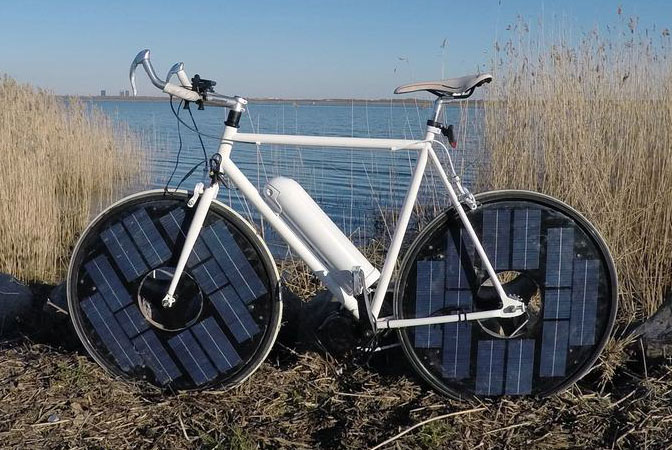 From a bike that is really all about aesthetics, we will move on to one that is perhaps the opposite.  The Solar Bike, by Danish solar-energy engineer Jesper Frausig, features disc wheel solar panels that keep the batteries charged.  It is an interesting approach to powering an electric bike, but my initial concern after seeing the images was the danger of riding in a crosswind. Frausig addresses that concern in a BBC article about the design, saying that he is "considering ways to increase the density of the solar cells on the rear wheel and eliminate them completely from the front wheel. He's also investigating better shadow-optimizing technology that could boost the bike's ability to collect solar energy when it's parked in shade."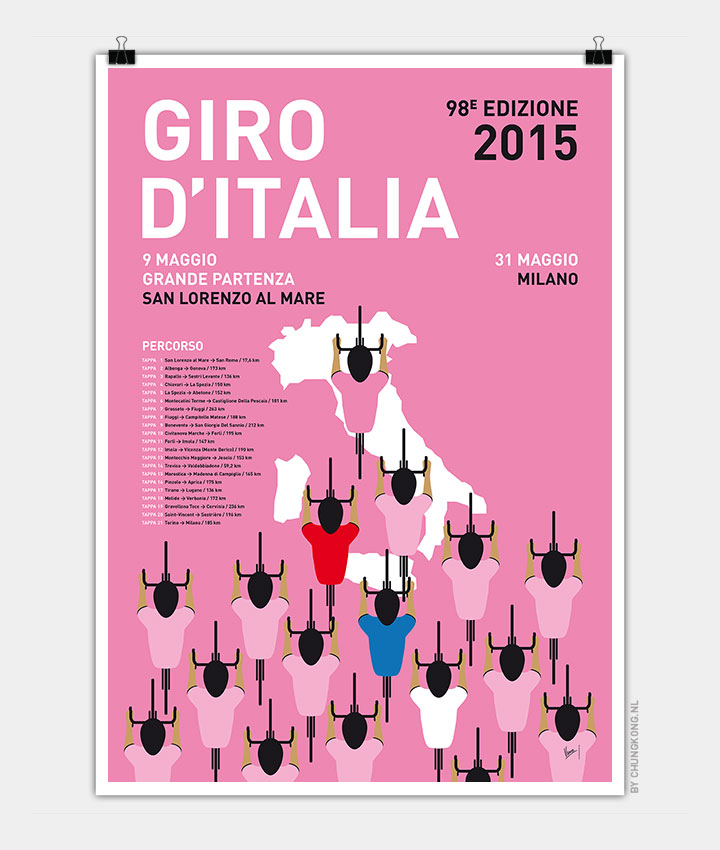 If you follow bike racing at all, you know that the Spring Classics are over, and Grand Tour Season is upon us. Amsterdam based graphic designer Chungkong created a series of Minimal Pro Cycling Posters to celebrate the 2015 Grand Tours, including the Giro d'Italia which is underway right now (and has been a good but bloody race so far).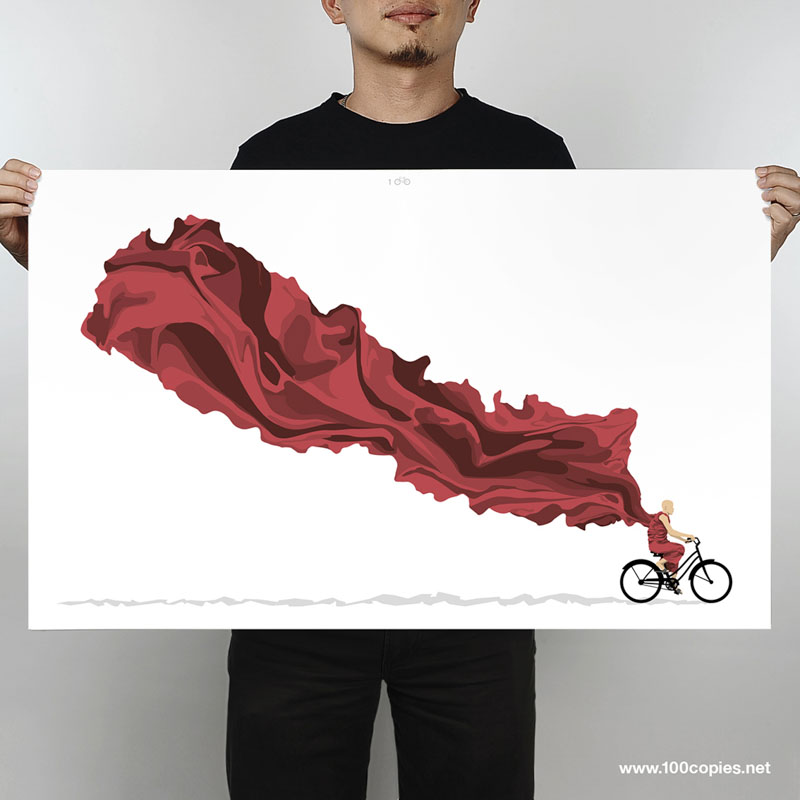 Finally, I will close with another poster design. The latest limited edition print by Thomas Yang of 100copies is "Ride On, Nepal". The prints sold out quickly, with 100% of the $6,000 proceeds going to the Red Cross Nepal Earthquake Relief humanitarian efforts. Nice job, Thomas!




Subscribe to the email newsletter… and follow Bicycle Design on Facebook , Twitter , Pinterest , and Google + .