A few years ago, I briefly mentioned in a post a website that has since become one of my favorites. Taking its name from the 1967 Cream album, Disraeli Gears chronicles in photographs the history of the rear derailleur, a component that, according to the site, "defines the 'groupset' and in turn, defines the bike." As someone who has a pretty good collection of 80's and 90's derailleurs from old bikes that I have owned, I guess you could say that I qualify as a bit of a derailleur fanatic (which probably explains why I can spend hours looking at that site).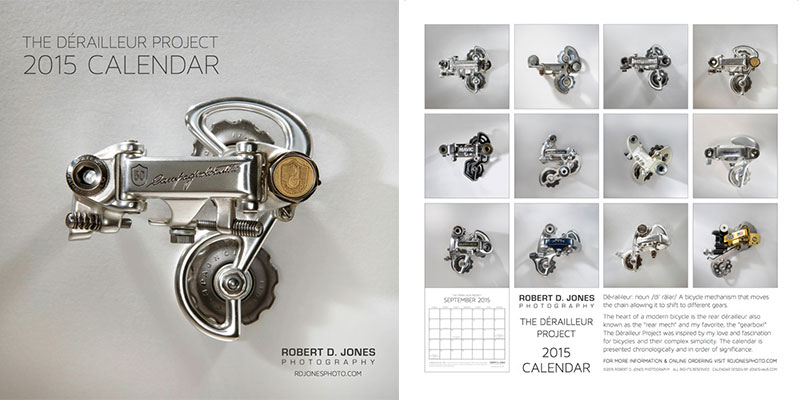 It is probably no surprise to hear that I was excited recently to see the latest project by photographer Robert D. Jones, a calendar for 2015 featuring photographs of vintage rear derailleurs. In addition to the 1983 Campy Super Record 50th Anniversary derailleur featured on the cover (above), you can see a few more of Robert's photos following this post.  Be sure to visit The Derailleur Project page on his website though to see many more of his wonderful vintage derailleur photographs.
If you are interested in purchasing the calendar, you can find it on Amazon (and in the Bicycle Design Amazon store). This is definitely the calendar I will be using for 2015…can't wait to receive it!