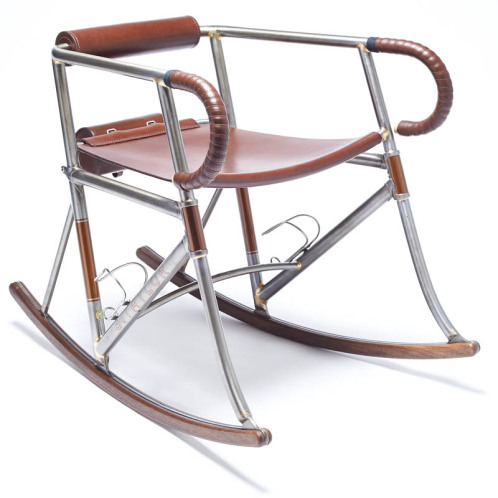 Cycle Show 2014 took place this past weekend in the UK, and I saw a few interesting things from the show on Twitter. The Randonneur Chair by Two Makers (Andrew McDonald and Simon Taylor) was definitely the standout though. According to the Two Makers website, the design was "inspired by classic hand-built racing and touring bicycles manufactured by the master Constructeurs of the 1940s." The chair was "handcrafted from Reynolds 631 tubing, hardwood and bicycle saddle leather. Using bicycle geometries and traditional frame-building techniques, it is both a celebration of cycling and of bespoke British craftsmanship." Read more about it, and see several additional images, on the Brooks Blog.
Keeping with the theme, I will go from furniture made from bicycles to furniture for bicycles. German company Mikili has several nice designs for indoor bicycle display racks. I have seen wooden wall mount bike rack designs before (I even have a couple in my home office), but these are some of my favorites. I like the version with a drawer, and the flip down model seems like a good idea for tight spaces. These guys seem to be pretty active on social media too, so connect with them though the links at the top of the site.
Another way to store a bike indoors is the HOBS (Horizontal Overhead Bike Storage) system. Unlike the fashionable Mikili racks, Mechanical Engineer Ken White's HOBS design is intended to be used in a garage where it maximizes floorspace below by positioning the bike horizontally against the ceiling.  See a video and read more about it on the Kickstarter page.