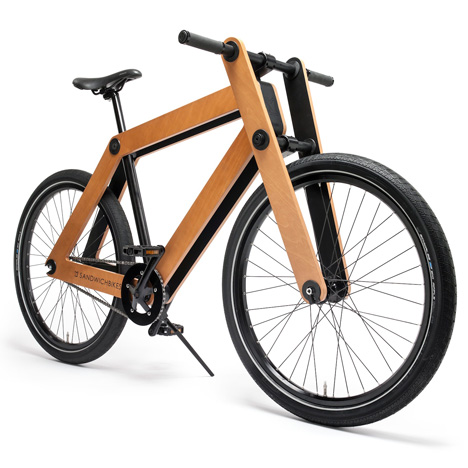 It has been more than seven years since I posted about the sandwich bike prototype, designed by Bleijh Industrial Design, after it was spotted at the 2006 Salone Internazionale del Mobile in Milan.  It took a little time, but that concept is now in production as a flat pack bike that can be assembled at home in half an hour (using tools that are included in the box). The Sandwichbike was officially launched with a party in Amsterdam a couple of days ago, and the bikes are now shipping within Europe (and will ship worldwide next month). Read more at Dezeen and on the Sandwichbikes website.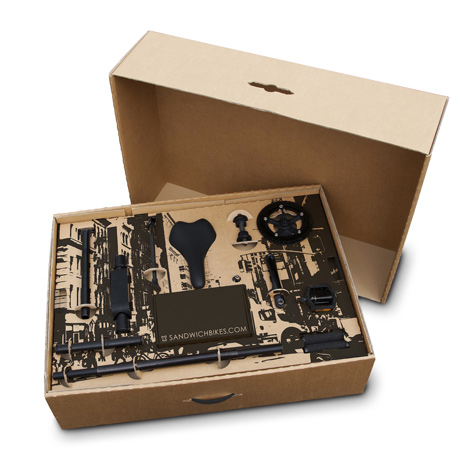 The Copenhagen Wheel starting making the design blog rounds in 2009, right after its debut at the COP15 climate Summit in… you guessed it… Copenhagen. That product, which uses energy recovered from regenerative braking to transform most any bike into an electric assist hybrid, began selling today in a single speed version.  Additional sizes and a multispeed version are coming as a CNET article today points out:
"The 12-pound Copenhagen Wheel is available for $699 in a single-gear configuration, but it'll cost more for those who want to slip on a cassette with multiple gears. The first 1,000 of them are being hand-built now and will be available for mountain bike and road bike wheel sizes."
It is more than just a bolt on electric wheel though, with smart features that CNET goes on to explain:
"The technology also includes a mobile app that lets people adjust settings and monitor fitness statistics such as elevation gained and calories burned. In addition, the wheel can automatically lock itself when its owner leaves and unlock when its owner returns."
It is great to see both of these products hitting the market after several years of development. I could go on and include others that are resurfacing years after the initial buzz, like the Hövding airbag helmet or the LightLane virtual path (which started as a competition entry on this blog). Even the Cerevellum rearview device, which I first tried as a rough prototype in 2008, is back and looking for funding on Kickstarter to add new features like GPS functionality and ANT+ compatibility. Many of the concepts that have been posted here at Bicycle Design over the years never made it past that initial concept stage. They may have inspired someone else or sparked a new idea, but many of them were simply design concepts. It's good to point out a few different ideas from outside the bike industry that have made it all the way through the development process though. This is by no means an exhaustive list, but I think it is a trend that we will continue to see.