If you have been following this blog for any length of time, you probably know that I am not a fan of hubless wheels. You may occasionally see them used on custom motorcycles for a visual effect, but in general, I believe that they work better in renderings than they do in real life.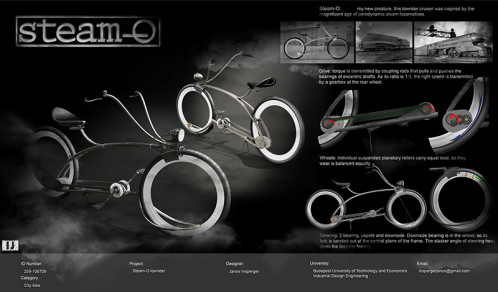 I will temporarily put aside my bias against hubless wheels though to share a few images of Hungarian designer Janos Insperger's Steam-o concept bike, which was inspired by the steamlined locomotives of the 30's. Janos can explain the design concept better than I can, so here is what he has to say about his design.
"Steam-o, this "retro-futuristic" lowrider cruiser was inspired by the magnificent age of aerodynamic steam locomotives. The leather seat with spring suspension, the reverse brake lever of caliper brakes, the big headlight with chrome and bronze polish remains the renaissance of steam machines.
The aerodynamic design of the 1930s appeared at locomotives too, for example think about Loewy's K4S locomotive. This monument part of history combining with a light, human powered vehicle resulted in this bicycle concept.
The main feature of this concept is the pushrod drivetrain such as that used on steam locomotives.
Pedaling torque is transmitted by bearing on eccentric shaft to coupling rods. Coupling rods move in vertical motion as well as horizontally as the crankarm rotate. The same eccentric shaft at rear wheel receives the torque ratio 1:1. To gain a useful travel speed it needs a small gearbox (about 1:6 ratio depends on crank arm length and rear wheel size).
Wheels looks like railway wheels, but behind the outer shield, the tire's rim rotates around by planetary rollers, that run around an inner, fixed rim. As the rollers move planetary, suspended to a rotating rim, their position is continuously changing, so their wear is balanced equally. This guarantees long life, and adds a small amount of suspension to the massive wheel structure. 
The fixed, non-rotating rim of the front wheel is held by 2 headset bearing, upside and downside. As downside bearing is inside the wheel, the lower fork is bent out of bike central plain. The slack angle of headset and the low frame geometry results in the lowrider feeling."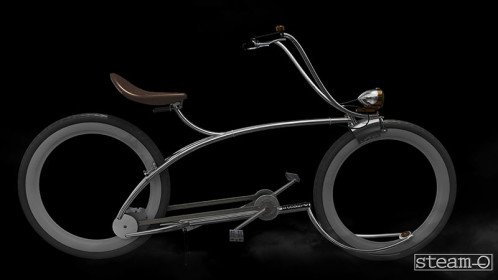 In addition to the Steam-O, you can see several of Janos' older bike designs on his Coroflot page. You can also see more images of this design, and a few others, on his Tumblr blog.