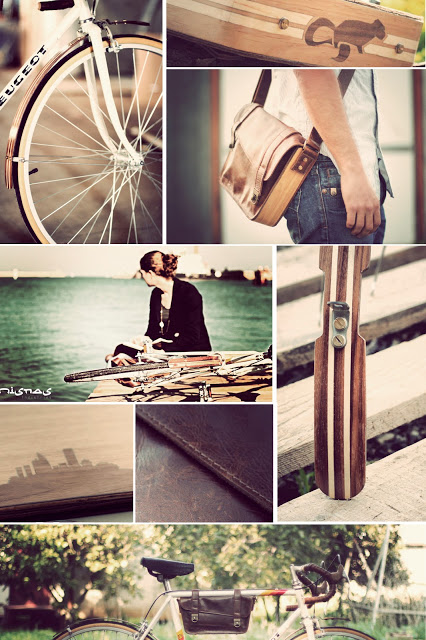 I briefly mentioned Nisnas Industries a couple of years ago when it was a new venture by founders Yossi and Max. At the time, I referred to them as "a small workshop dedicated to custom commuters in the city of Haifa in northern Israel." That description is probably still fairly accurate, though it appears that they are more focused on their handcrafted wood and leather commuter gear now than on custom frames.
One thing that has not changed though is their focus on the neighborhood where they started. Yossi and Max currently have a Kickstarter campaign underway to, as they explain, "launch a larger community center for youth in the Wadi Nisnas neighborhood of Haifa that will double as a manufacturing center to produce our wood and leather designs." The space will allow them to increase production and employ more local artists, and will be open after hours to serve as a community workshop for local youth.

You can see a few of the handmade wood and leather bike commuter oriented goods that they produce in this post, but I encourage you to check out the Kickstarter page and the Nisnas blog to see much more.  I really like the inlay-ed wooden fenders, and the wood and leather notepads, but the wood and leather messenger bags are what really caught my attention.  The wooden spine on the Kul bags (available in two sizes) was inspired by their "rugged, rigorously tested and proven mud guard designs." They explain that it "reinforces the shape of the bag, adding protection making it more sturdy and beautiful" and that they "custom-etch the spine to fit the bag perfectly." The bags are beautiful, and I particularly like the way they can be used as a shoulder bag, or attached to the top tube of a standard frame to make a frame bag.
You can read much more about the products, as well as see pictures and video, on the Kickstarter page. I really do like the wood and leather commuting products that these guys are making, and the fact that they giving so much back to their local community in the process makes the gear even more attractive. Check out what they are doing, and back the project if you feel so inclined.