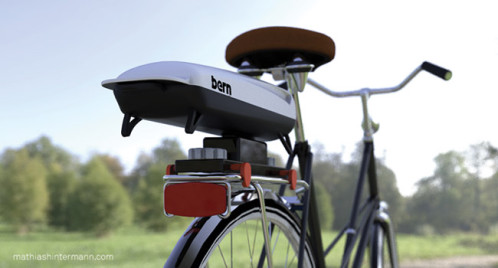 "The joy of cycling, now with brat and beer." That is the tagline at the bottom of Mathias Hintermann's  webpage for his Backbrat design, a portable grill that attached to a rack on the back of your bike. Mathias explains the idea behind his design.
 "In Germany we love cycling, and we love to grill in the park. Backbrat allows you to take a break during your bike trip and enjoy a brat and a beer. Backbrat is seamless. The bike mount gets locked onto the bike rack. This locks the grill, which is all you need for a great day on your bicycle. It gives you a comfortable, efficient and unique experience. Now, you can grill a bratwurst, wherever and whenever you go."
I have seen DIY bike mounted grills before, like the one in the background of this shot that I took at the Bicycle Film Festival in New York several years ago.  Mathias' design for Bern is the first grill I know of that it is actually designed to mount on a bike though.  Obviously, some thought went into the concept, and it is very interesting to see the research, sketches, renderings, and prototypes on Mathias' site.  It is a well documented product design project that is definitely worth checking out…even if you don't usually crave brats when you ride.