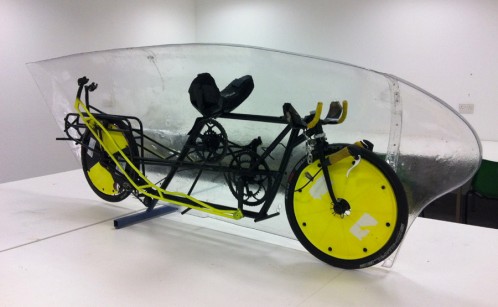 A few months ago, I mentioned Graeme Obree's plan to attempt the human-powered land speed record in a machine of his own design. In September, his prone position HPV was not ready for the World Human Powered Speed Challenge at Battle Mountain, Nevada as originally planned, but Obree has continued work on the design with plans to make an attempt soon in his native Scotland.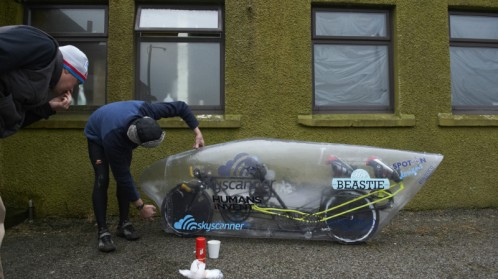 He has been working with a team of Product Design Engineering students at the Glasgow School of Art on the development of a shell for "the Beastie" (as Obree refers to his machine), and you can see a prototype from that development in the photo at the top of this post. Last week, he did his first test run in the Beastie at Machrihanish airport in Scotland, and Camille McMillan on was there to capture the day in photos for the website Humans Invent. As you can see from the images, the weather was far from ideal, but the team pressed on…with caution. "Due to issues with visibility, Obree decided to test the usability of the bike with the fairing at a more moderate speed. The tests proved very successful and he remains upbeat despite the weather." He also did a run without the fairing, and plans to make a few design changes before the record attempt. "The vehicle itself is good, it's now about sorting out the perfect skin, which I'm pretty confident we can do," he said. "The plan is to build the proper skin, which we will slightly modify in terms of headroom, and the front and tail will be shorter."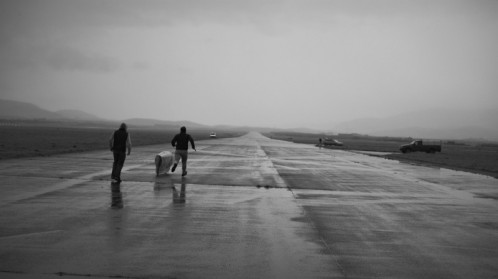 Read more about the practice run and see many more photos from the day at Humans Invent. While you are there, check out the links at the bottom of the post to related articles, a couple of which include videos featuring the always interesting Obree. As I said in my previous post, I am a skeptical as to whether he can pull off the record, but I certainly wouldn't count him out. Either way, his attempt should be interesting, and I will definitely be pulling for him.
Photo credits
Top image: Glasgow School of Art
All others: Camille McMillan  for Humans Invent