Yeah…I know that I sound like a broken record by prefacing most every post lately with a mention of how busy I am with work and other projects. I really haven't been able to spend much time thinking about this blog lately though, so please bear with me while posts are infrequent, and my responses to emails and comments are delayed (or nonexistent). If you sent me a submission or suggestion in the last month or so, it might not be a bad idea to send me a reminder. I am trying to get to everything, but free time has been hard to come by lately.
Today, I just want to quickly pass along a few interesting links that I have been meaning to pass along lately. In rapid-fire fashion, here they are: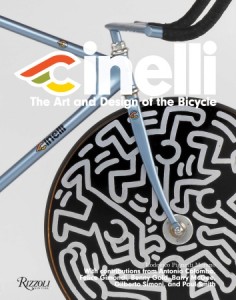 As I have mentioned before, I've been a Cinelli fan for many years, so I am pretty excited about the new book Cinelli: The Art and Design of the Bicycle which will be available later this month. I don't have a copy yet, but check out this post at Cool Hunting for a peek inside the book.
Speaking of bikes and art, BikeArt.gr recently held a bike art exhibition during the Athens Bike Festival. Check out their Facebook page for photos from the exhibition, and for news about bikes and art in general.  I mentioned the Bike Art volume 1 book in a post last year, and volume 2 of the series will be coming out next Spring.  Look for a review here around that time.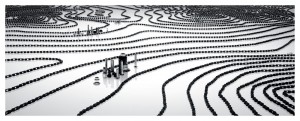 Keeping with the art theme, Thomas Yang of 100 Copies has some new pieces on his site. I particularly like the "Cityscape" and "Terrain" posters, designed by Thomas Yang & Chris Soh, and photographed by Allan Ng from The Republic Studio.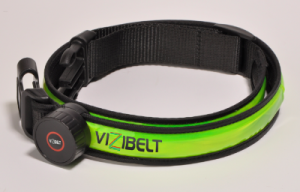 Vizibelt is an LED belt designed by Will Williams. As you can see in this video, the surface of the colored belts light up very evenly, making it an easy and effective way for cyclists to increase their visibility at night. He is currently trying to crowd fund the project, so check out his Indiegogo page if you are interested.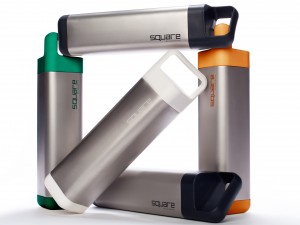 Another crowd funded project underway at the moment is the Square, from Clean Bottle.  On their Kickstarter page, they point out that the new bottle is "the product of a 3 year collaboration between engineers and designers with backgrounds from Apple, Frog Design and Stanford." As you might guess from the shape, this one will not fit into the bottle cage on your bike, but it is a nice lifestyle bottle that you never have to worry about rolling away when you set it down. It looks really good too, which probably explains why they have exceeded their original funding goal by a large margin.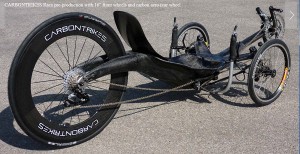 I am no expert on recumbent trikes, but the monocoque carbon frame sport trike from Sweden based Carbontrikes looks pretty interesting.  Check out the website for specs and more information about the designs. They definitely look fast just standing still.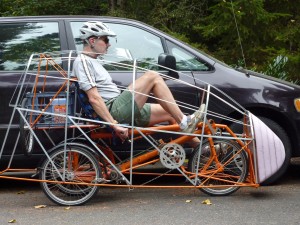 Finally, I want to mention the EcoVia, which is an electric assist "human-powered commuter vehicle" by Craig Cornelius. The design is a work in progress that you can read about it on Craig's blog, The Left-handed Cyclist.  His first post explaining the project can be found here, and he recently posted a second installment with design updates after riding the prototype. It is a very interesting project from a technical standpoint, so I encourage you to check out Craig's site and follow along as he develops the EcoVia. I am sure he would welcome any comments on the project as well.