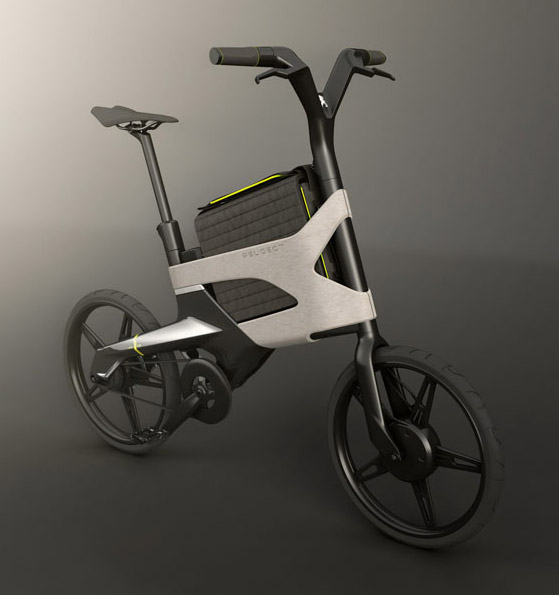 Earlier this year, I posted about the Peugeot DL122 concept bike, designed by Neil Simpson. There was quite a bit of interest in that original bike, so Neil decided to add a battery and motor to make an e-bike version that they could show at Eurobike. He redesigned the handlebars to hide the cables and to integrate a twist grip shifter for the motor and the Shimano Nexus 8 drivetrain. In addition to the renderings shown here, you can see additional renderings and detail views on Neil's blog.  He also has a couple of photos of the prototype on his site as well.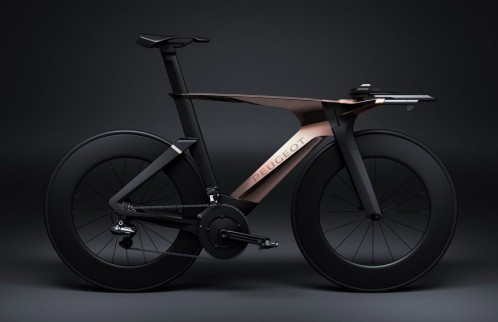 The eDL122 is just one of three new bicycle designs from the Peugeot Design Lab. Also designed by Neil Simpson is the Di2 equipped Onyx time trial bike concept, with an adjustable "Biplane base bar" integrated into frame.  The bike was one of three Onyx vehicles presented at the Paris Motor Show, and it is interesting to see the design details that it shares with the scooter and car. See additional renderings of the bike, and photos of the prototype, on Neil's blog.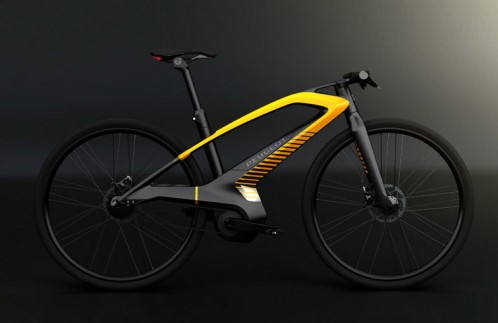 The third concept bike is the eDL132, designed by Benjamin Goudout  (with  colors and trim by Sebastien Floutier).  This one is a carbon fiber electric bike with Alfine hydraulic disc brakes (with levers integrated into the handlebars) and an Alfine Di2 11 speed belt drivetrain. The motor and lithium-ion battery are integrated into the frame, and LED lights are integrated into the handlebars and saddle.  This one definitely fits in with sporty electric bikes like the Specialized Turbo, the Cube EPO line, and the Protanium Diavleo Speedbike that I mentioned in a recent post.  Actually, I think this Peugeot  concept is a step above all of those bikes in terms of style and design.  Designs like this one, and the eDL122, definitely help to change the common perception that all e-bikes are geeky, clunky-looking afterthoughts.
Nice job by Neil, Benjamin, Sebastien, and all of the designers at Peugeot on these designs. I'll be looking forward to seeing more work like this from them in the future.