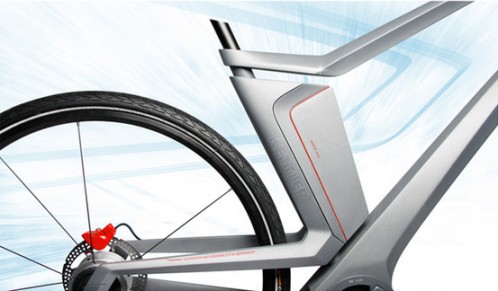 I mentioned a project from Behance yesterday, so I will follow up with one more today.  The eMotion electric bike concept shown here was designed by University of Wuppertal students Stefan Reichert, Sven Schulte-Tillmann, and Arina Nechaeva in collaboration with the German bike manufacturer KETTLER. The brief for the project was simple- "develop the future of hybrid biking and get rid of the bad stigma of existing e-bikes".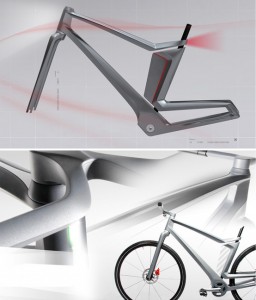 Their design features a battery that is easily removable, but is still integrated into the form of the hydroformed aluminum frame.  It doesn't look like a generic battery pack stuck onto  a standard bike, but the user can still easily remove it if the bike is locked outside… or if he or she just wants to ride without electric assist.
Using the 3d CAD model built in Alias and assembled in SolidWorks, the team built a full-scale model of the frame.  The project site points out that "an inside metal structure in the frame" was present to "ensure stability", but it is not clear if the prototype was rideable or not. Either way, it is a great looking student design that definitely deviates from the typical e-bike aesthetic. Check out the Behance page for more research, sketches, renderings, and photos  from the design team.