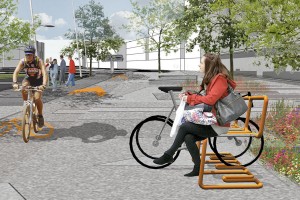 According to the designers, Ariana Hernández and Aixa Solá, "Bench rack is a concept born from the need for street furniture to help maximize space and urban audiences". The design concept works as a rack for bicycles, but also functions as bench seating in an urban public space.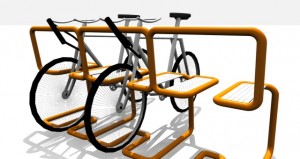 Bench rack is just one of many entries in the website n-punto's BiciRack design contest, which aims to raise the profile of cycling as a convenient mode of transportation in Puerto Rico. The site (in Spanish) points out that participants, including artists, architects, designers, and engineers, will develop design concepts for bicycle parking to be used in public spaces in the city. The best three entries will be chosen by a jury of design professionals, and will be built and installed permanently in 5 locations in Puerto Rico.
You can see all of the entries here, and vote for your favorites by liking them on the n-punto Facebook page.