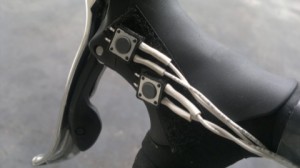 If you want Di2 on your bike, but you don't have an extra few thousand dollars burning a hole in your pocket, Computer Engineer Nabil Tewolde has a perfect solution for you. His DIY electronic shifting system is, for the most part, made from parts found at his local hardware store, electronics shop, and hobby shop.  Sure it could use a bit of refinement from an aesthetic standpoint, but Nabil points out that this electronic derailleur was part of a larger project to build the ultimate bicycle computer, which you can read about on his blog.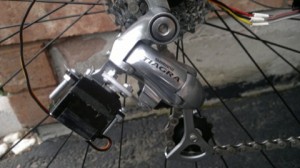 Nabil posted an Instructable showing how converted his Shimano Tiagra derailleur to an electronic system. "This has nothing to do with my bike computer and is meant for people who enjoy building stuff themselves," he points out. The bike computer project is still ongoing though, and Nabil is currently working on a "more complete and finished product." I am looking forward to seeing it.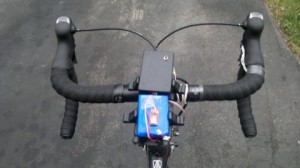 Nabil is not the only cyclist experimenting with electronic shifting at home. In the comments on his Instructable page, I found Preston Fall's Open source electronic bicycle shifting website. He has great technical information and resources on the site, so check it out if you are interested in trying something like this at home. After seeing Nabil's Project and Preston's website, I am certainly interested in playing around with an electronic shifting conversion. My boys are very interested in electronics, so something like this could be a fun project for the three of us. I have no shortage of old bikes and parts, so why not?