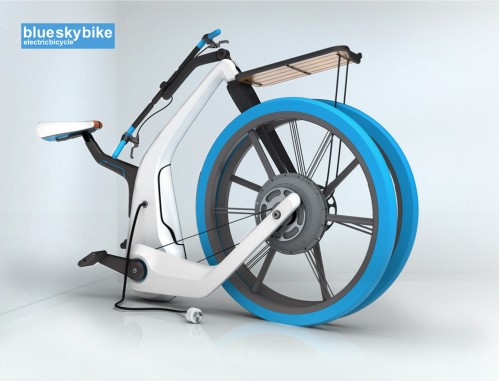 BlueSkyBike is a collaboration between Industrial Design Intern Richard Heath from Auckland, NZ, and BlueSky Design in Sydney, Australia. Their electric folding bike concept is aimed at style conscious urban commuters and is based on Richard's experience commuting from Sydney's western suburbs to the city each day via train.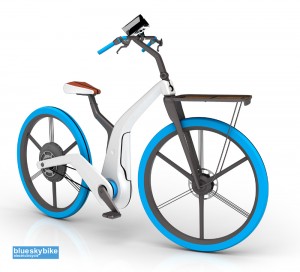 Richard explains the concept below:
"Practicality, Storage capacity and Style were key objectives. The aim was to combine them more successfully than previous concept attempts and in the process give electric bicycles a brand new identity.
The concept features innovative ideas such as the rotating fold mechanism, which allows riders to quickly and easily store their bikes for getting on and off trains & buses, getting in lifts and storing in workplaces or homes.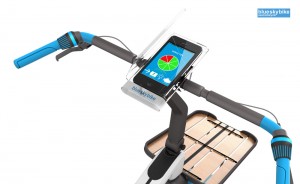 Whilst traveling riders can access important information such as projected range, battery capacity and power assist levels via an integrated Smartphone app, mounted in a protective polycarbonate case.
BlueSkyBike is powered by a 250w electric hub motor (restricted due to Australian law).To recharge, the battery can be removed, or simply plugged into the wall via a conventional socket. Alternatively the battery can be charged 'on the go' with the regenerative braking function whilst braking downhill."
You can see how the BlueSkyBike concept is designed to fold in the renderings below, and contact Richard at richardlyallheath@gmail.com if you would like more information about the project.