When I first heard about NeilPryde bikes a couple years ago, the renderings of the sculpted carbon Alize frame immediately caught my attention. Perhaps the design of the Alize is old news at this point, but I just discovered Sonny Lim's portfolio page on the Behance network, which gives us a glimpse into the design of the aero frameset from NeilPryde. While you are on the Behance site, take a minute to check out a few of the other bike projects that are featured there.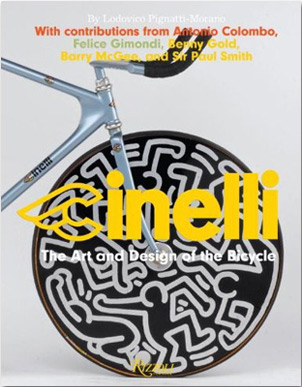 I was a huge Cinelli fan in the 80's (back when I dreamed of owning a Laser), so I am pretty excited about a new book titled, Cinelli: The Art and Design of the Bicycle. It comes out this fall, and you can bet that I will be adding it to my collection.
Awwwards is a site "which recognizes and promotes the best web designers in the world." Recently, they posted a nice collection of well-designed bike industry websites. Via Loving The Bike.
Star-Turn, an art exhibition by British lighting designer Bruce Munro is completely pedal powered. Read more about it at the Pegasus lighting blog and at Discovery.com.
Finally, I want to mention a new design competition from B'Twin and Local Motors to create "a lightweight, customizable, urban friendly tricycle that can accommodate two driving positions, provides electric-assist and protection from weather and collision, can be connected to a smartphone, and can fold up to ease parking." You can read the design brief here and out more at Yannig Roth's post on the subject.