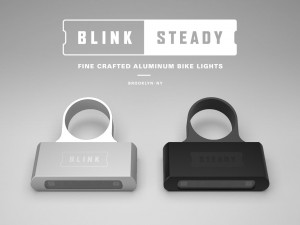 The  Blink/Steady bike light is Brooklyn-based designer Benjamin Cohen's solution to the problem of bike light theft. The light is machined from solid aluminum and is secured to the seat post by a set screw inside the unit, making it difficult to steal. There are no buttons, and it uses an accelerometer to turn on automatically and shut off when you stop riding. It is waterproof, works in blinking or steady mode (hence the name), and "emits a bright but distributed light from two .5w LEDs and is visible from nearly 180 degrees". Read more about it on the Blink/Steady website and check out the video on their Kickstarter page (which is open until May 27).
Another anti theft bike light project currently underway is a collaboration between GOOD Magazine and Gotham Bicycle Defense Industries.  Similar to the mountain bike project mentioned in my last post, this is a crowdsourced design project that they are calling Product of the People. The project just kicked off, but they have a few early concept sketches posted. They are asking for feedback on the designs, so leave a comment on the original post to let them know what you think.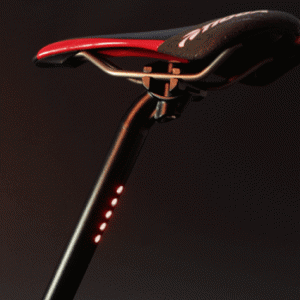 One of the commenters to the GOOD post pointed out the LightSkin seatpost, which features 5 integrated LED lights. The design won a reddot award in 2010, and definitely addresses the light theft problem. Of course, seat and seatpost theft is still an issue with LightSkin or any of the other products mentioned here. In places where theft is common, you often see bikes with chain between the seat rails and seatstays or with a ball bearing glued in the head of the binder's allen bolt. Neither of those solutions is ideal though, so I would suggest investing in a seatpost clamp like this one to protect that expensive theft resistant light.