If you are wondering why I didn't post last week, it's because there is really no need for me to continue writing about bicycle design. Richard from Cyclelicious finally succeeded in designing the perfect bicycle (coincidently on April 1st), so any future designs probably won't be worth discussing.  I assume that most of you are familiar with Richard's "Yanko" reference in the title. If not, take a look at Yanko Design, a design site that often posts rendered blue-sky concepts of bikes (like this one).
OK…the real reason I haven't been posting lately is that I have been busy with design work and other projects, but I want to catch up by passing along a few links today. I mentioned Bespoked Bristol, the UK Handmade Bicycle show, in a recent post. Since then, Cyclorama has shared many pictures from that show on their blog. These high-flange hubs with heart cutouts caught my attention first as I browsed through the photos, but I encourage you to check out all of the posts here, here, here, and here.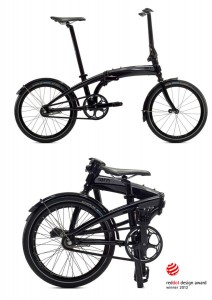 Tern Bicycles just received a red dot design award for their Verge Duo folding bike. About the award, Tern vice president Joshua Hon said, "It's great to be recognized for the Verge Duo because we work hard to achieve clean, functional design. The fact that we have received three major international design awards all within a year of the launch of our company is a validation of our philosophy and objectives, which is to produce bikes for urban transport." A total of three design awards (this red dot award, a 2011 Eurobike Award, and a 2012 Taipei Cycle Design & Innovation Award) is quite impressive for a company that is less than a year old. Tern definitely deserves the recognition though for their clean and functional approach to the design of urban bikes.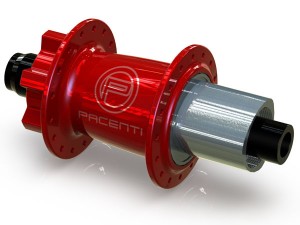 "Catching up with Kirk Pacenti" is an interesting interview at Dirt Rag. You can read more about Kirk and his projects, including the open source Polygon freehub body shown here, on his website.
"Aim for Glory" is the latest limited edition bike themed print by artist Thomas Yang. He points out that the design was "created for the competitive cyclist who always wanted to take the lead rider down." Cool poster, but let's just hope that no drivers take the target idea too literally.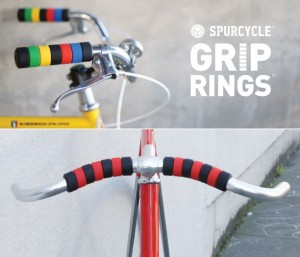 Finally, I want to mention GripRings by Spurcycle, a bicycle accessories startup created by two brothers, Nick and Clint Stone. GripRings are a kind of bicycle grip that can be customized by length and color. "Each grip is assembled from a series of rings, which install without tools and stretch-on for a secure fit. Any number of rings can be used to customize the width of the grips, including twist-shifter lengths." The individual rings are made from vibrantly colored silicon rubber, and a locking end plug is available to keep them on the bars. See more photos here, and check out their Kickstarter page for additional information.