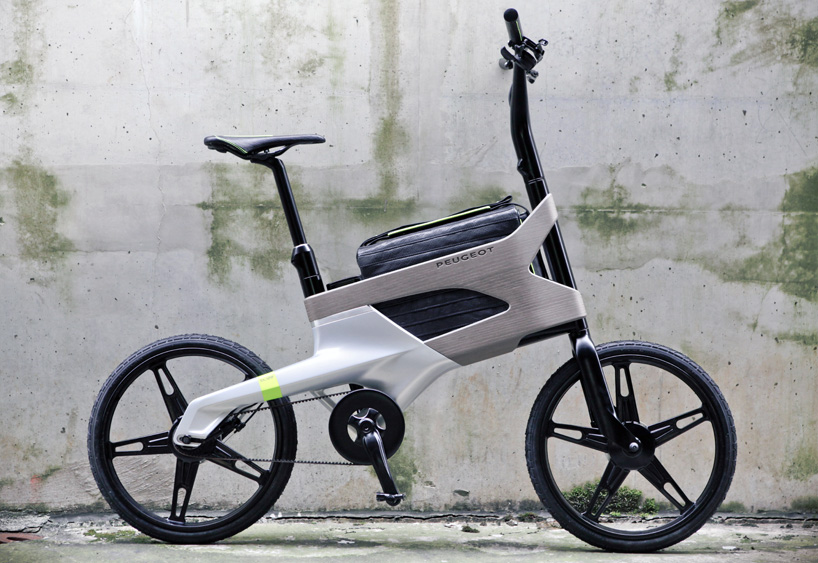 Some of you may remember my post from a couple years ago about the TATO bicycle, which featured a storage compartment for a laptop bag integrated in the frame. The designers at French carmaker Peugeot have come up with a new concept bike based on that same idea. The aluminum frame Peugeot DL122 concept bike features a lockable wooden compartment in the main triangle area to hold a briefcase, computer bag, or anything else that fits in the slot. At first glance I assumed this was an e-bike concept, but I was surprised to see no mention of that. Regardless, it looks pretty nice, and the bent-ply frame basket is a nice detail. Knee clearance may be an issue, but nothing that can't be worked out.
I am sure that I don't have to tell you that bikes are nothing new to Peugeot. The company started making bicycles long before the days of the automobile. The bicycle brand hasn't been popular since the 80's but it is good to see that the company is now trying to reconnect with their roots. They showed off an interesting concept bike in 2010, and they have a section of their website devoted to cycles, pointing out a partnership with Cycleurope. I hope the Peugeot bike brand really does make a comeback with some innovative, even edgy, bike designs that set them apart from the once classic, now cheap, French brands that can be seen on sites like Bike Direct and eBay today.  If they do get back into the bike business in a big way, I'll be pulling for them.
Update: I am obviously pretty clueless about the Cycles Peugeot branded bikes of today. Here is their 2012 catalog (pointed out to me by Scott from the Velocast). Also see this post at The Inner Ring, which lists the other classic European brands now owned by parent company Cycleurope, including Bianchi, Puch, and Gitane.