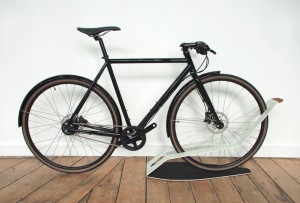 Bespoked Bristol, the UK Handmade Bicycle show, kicks off today and runs through the weekend. It may not be as big as the North American Handmade Bicycle Show, but from what I have seen of last year's event it is definitely worth checking out.  Mick from Cyclorama will be there again this year, so check the Cyclorama blog for pictures and updates from the show.  I'll also be checking UK based sites Road.cc and BikeBiz for show coverage throughout the weekend.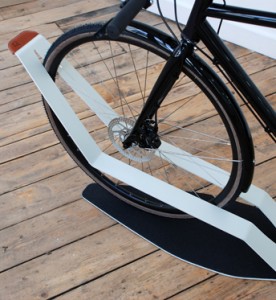 Continuing a partnership that started at the London Design Festival 2011, design studio Quarterre and Milk Bikes will be exhibiting together at the show. The Milk Bikes will be displayed in the sculptural, folded steel Shadow bike stands from Quarterre's Furniture For Bikes collection. The stands are made in the UK from a single sheet of folded steel and are hand finished with leather trim "for hanging a helmet". It is a nice simple design …and be sure to check out the other Quarterre bike storage products on their website.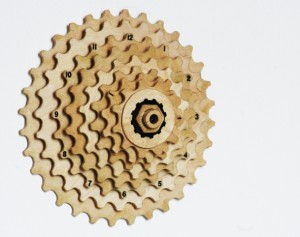 Switching gears (so to speak), I'll mention this birch plywood clock hand-built by Graham McNamara. The numbers are printed on the 24 tooth cog, and the two smallest cogs move indicating hours and minutes. It is a pretty neat woodworking project that would make a nice workshop clock.  Leave a comment for Graham if you are interested in one.