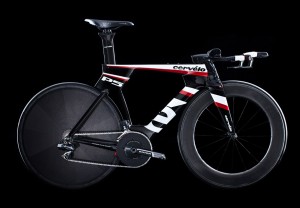 If you have been reading this blog for a while, you know that I have a weakness for time trial bikes. Like almost every new time trial machine, the new Cervelo P5 looks fast… even sitting still (and I am sure that it is a very fast bike with the right motor). What's different about this bike though? Cervelo points out on their website four features that define the P5.  I won't rehash all the marketing copy here, but the hydraulic brakes by Magura are certainly one interesting detail that is generating a lot of attention. More interesting to me though is the fact that this frameset design exploits a few UCI loopholes quite nicely. Velonews has a great article about the P5 that explains how Cervelo engineers used the UCI rules to work to their advantage. Through the use of "gussets" that support the frame tubes, "the P5 actually has a 6:1 ratio, yet it still abides by the UCI's 3:1 rule." That 6:1 airfoil profile can be found on the version of the bike that is UCI legal, but there is another tri specific version (seen in the pictures here) with a fork design that completely ignores the UCI rules.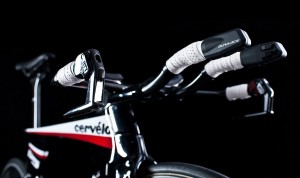 The fact that this bike is specifically geared toward the triathlon market is the main point that interests me about it.  In a post last summer about TJ Tollakson's bike, I said:
"Perhaps the results of an athlete like TJ Tollakson will get the big players in industry to think about developing more triathlon specific bikes that don't comply with the UCI's restrictions. After all, as long as there are triathletes choosing to ride old Softrides and Zipps over new Shivs, P4s, and Time Machines, there seems to be a market."
This a great example of a bike designed and developed with that market in mind, and I suspect that we will see many more in the near future. As long as triathletes don't have to comply by UCI rules, why shouldn't bike companies give them the products that they want?
If you are interested in reading more about the P5, check out these recent posts at Slowtwitch, Road.cc, and BikeRumor.