I am WAY overloaded with projects at the moment, so the links and topics that I have been meaning to post lately have been backing up. I won't get to them all today, but I want to take a quick break from the madness and quickly pass along a few of them.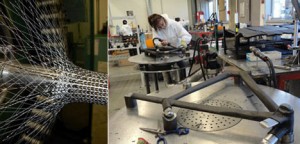 Core77 posted an interesting video of RTM carbon fiber manufacturing at TIME's factory near Lyon, France.  I thought the entire video was interesting, but particularly enjoyed seeing the individual strands of carbon woven into loose sleeves at the beginning.
The Left-handed Cyclist is the name of a new blog that I encourage you all to check out. "Reflections on the potential of human power for transportation" is the blog's tagline, and it looks like a great place for thoughts and news about all types of human powered vehicles.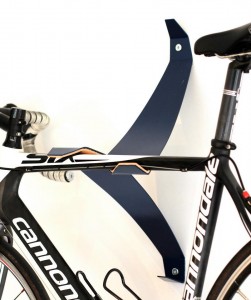 You have seen many different designs for hanging bikes on a wall, but The Bike Valet, by artisan furniture maker and product designer Steven Tiller, is a bit different. It is designed to be mounted to a single stud, and features two integrated hooks for a helmet, bags, etc. See the video, and learn more on The Bike Valet Kickstarter site.
I mentioned my affinity for vintage bike posters in a recent post. As part of Bikefest 2012, the city of Melbourne, Australia is hosting the 2012 UCI Track Cycling World Championships and is looking for a "vintage-style" poster design to promote the event. The top prize is $1,000 and four finalists will receive $500 each, so you might want to out your graphic design skills to work. Read more at Desktop magazine.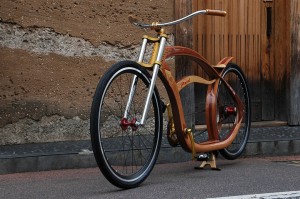 Speaking of Australia, Gus Duncan has been building wooden bikes on the Gold Coast for years.  He is currently on a 'sabbatical' in Tokyo, and is riding his latest creation all around the city. He hopes to have a production bike available later this year, so stay tuned for more from Gus.
This Swedish plan for a superhighway for cyclists is definitely interesting, but the last paragraph of the article is what really grabbed my attention. Perhaps if Sweden goes ahead with this project, America will revive its superhighway system for cyclists. I won't hold my breath…but I would love to see it happen in my lifetime.
The Londonist reports about a graphic designer who has created a new take on cycle route signage for the city.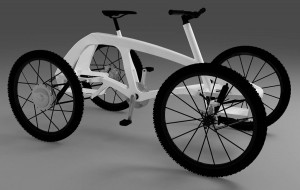 Finally, I'll mention this MTB-styled quadricycle that was posted at the recumbent blog. They point out that the project was "a collaboration between Mexican students of Mechanical Engineering and Industrial Design at UNAM (Universidad Nacional Autónoma de México) and German students at TUM (Technische Universität München)."