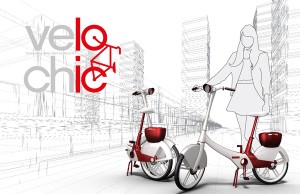 For his thesis project at the Academy of Art in San Francisco, Industrial Design graduate student Ramon Hung designed the Velo Chic folding bike, which is specifically aimed toward women living in urban areas. On his portfolio site, Raymon points out that:
"In America, women comprise only 25% of bicycle riders. The main factor that leads to this gender gap is that the industry trend of bicycles continues to focus on the existing bicyclists and ignoring the needs of the non-riders."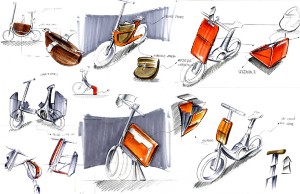 That theme of bikes designed for the large "blue ocean" of current non-cyclists has been discussed on this blog many times, starting with a guest post by Mark Sanders several years ago. The topic always generates an interesting debate about what (if anything) can be changed on a standard traditional bicycle in order to better appeal to those who do not currently ride at all. In this case, Raymon chose to target the subset of urban women within that blue ocean, and I am curious to hear your thoughts about his solution. Check out the additional renderings, sketches, and prototype photos on his website, and let me know what you think.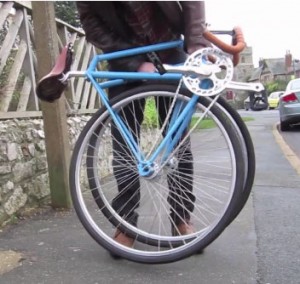 Another interesting folding bike concept comes from Philip Crewe. He designed the bike a while ago, but just recently built a ridable prototype. The concept is based on a full size frame, with an S and S style coupling on the downtube and two hinge joints on the top tube.  I am not sure if a similar concept has been tried before, but it seems like a simple solution that works pretty well. Check out his video on Vimeo to see the bike in action.
Velo Chic spotted via Design Buzz