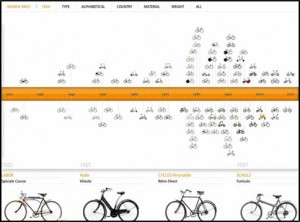 In 2009, I reviewed the book Smart Move, which features pictures and descriptions of the 200 or so unique bikes in Michael Embacher's collection. As an addition to Smart Move, and the later book Cyclepedia, Embacher is releasing an interactive iPad app, produced by Richard Loncraine and Patrick Uden. The app, which showcases the entire collection, will be available in the Apple app store starting tomorrow, but you can see a preview video now that shows the look and feel of it. Read more about the cyclopedia app at Road.cc, BikeBiz, and The Literary Platform.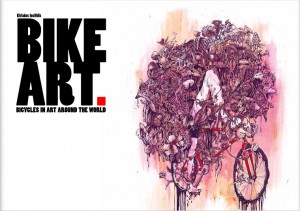 Bike Art- bicycles in art around the world is volume one in a series by Kiriakos Iosifidis. The book features all types of artistic work inspired by the bicycle. According to the author, "it is a collection of colourful bicycle graffiti, paintings, remarkable bicycle designs, complex constructions, and various types of bicycles one can find on the streets around the world. More than 250 international artists, illustrators, painters, sculptors, industrial designers, photographers, and organizations present their works of art and give us insight into their personal views and relations to these charming two-wheeled vehicles." Find out more, and see a few images from the book here.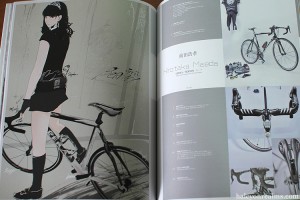 Bicycle Life with Kawaii Girls is a completely different kind of bicycle art book. According to the website Halcyon Realms, it is a "collection of gorgeous art work from some of the top manga artists and illustrators working in Japan right now as they pay tribute to the popular bike culture in the country." Read more and see images from the book at this Halcyon Realms post. Cyclelicious also has a recent post about this book. Thanks to Murray Breen for the tip.
I mentioned Thomas Yang's bicycle art pieces and t-shirts recently in a post. His latest limited edition print called "Go With The Wind" is now available on his website.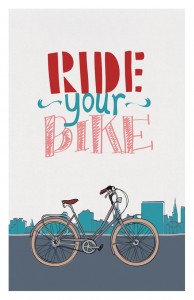 Victor Coreas is another graphic designer who has created a series of bike related posters. You can see one of his designs here. Check out his site to see more.
Finally, I want to mention the book I am reading right now… Italian Racing Bicycles by Guido P. Rubino. The large format hardcover book covers the history of 40 Italian brands, many of which have been around for well over 100 years. I am about halfway though the book at the moment, and I am really enjoying it so far. Look for a full review here soon.