In addition to visiting this site, you may already follow Bicycle Design on Facebook or Twitter. Now, there is one more way to keep up with this blog… with the new Bicycle Design Google + page.  If you don't already use Google +, I encourage you to take a look. The network has a great group of cyclists who actively post interesting bike related content, so give it a try (and add Bicycle Design to your circles if you sign up).
In addition to the new Google + button, I added a +1 button to the top of the right sidebar. If you like this blog, please click that button to recommend it to other users who search on Google. It is an easy way to support this blog by helping others to find it…and I definitely appreciate the clicks.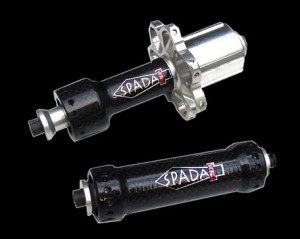 Since I have been talking about it, I will share a link that John Bump pointed me to on Google +.  These ultralight prototype carbon hubs by Spada weigh in at 50 grams for the front and 165 grams for the rear. Check out more interesting hubs from Spada while you are on the site. If 50/165 gram hubs seem light, check out the new Nikki / Monica hubs from Dash at Bike Rumor. With ceramic bearings the front and rear hubs weigh 46 grams and 122 grams respectively. You pay for that weight saving though…together the hubs will cost about a grand.
The Bottle Lock from Kuat Innovations is a pretty interesting new product. It fits in an extra water bottle cage, so it is easy to find a placeto carry  the 5 foot long cable lock. Like the old lighting systems that used a water bottle shaped battery though, it requires that you have an extra bottle cage on your frame (or you could just go without water as shown on the bike in the picture on their site).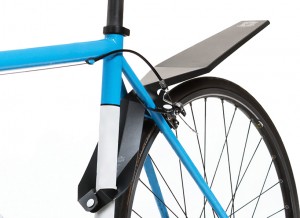 'Quickfix' and 'Foldnfix' are foldable plastic fenders that attach to almost any bike with no tools. According to a post at designboom, designer Mark Windsor "experimented over the course of 200 prototypes before arriving at the final designs." The origami-like mudguards are available in six colors- black, white, silver, red, yellow, and blue.
I didn't mention it on the blog last month when the rumors were unofficially confirmed that 2013 Dura-Ace Di2 will go to 11. Personally, I think the addition of disc brake set to the grouppo is a more interesting development than the addition of an extra cog to match Campy, but either way, it was expected news. Also not a big surprise is Campagnolo's announcement this week that they will launch two electronic grouppos– Record EPS (Electronic Power Shift) and Super Record EPS.  Electronic shifting has come a long way from the Mavic Zap days (mid 90s)  and is here to stay. It is only a matter of time before we hear about an e-shifting group from SRAM as well.