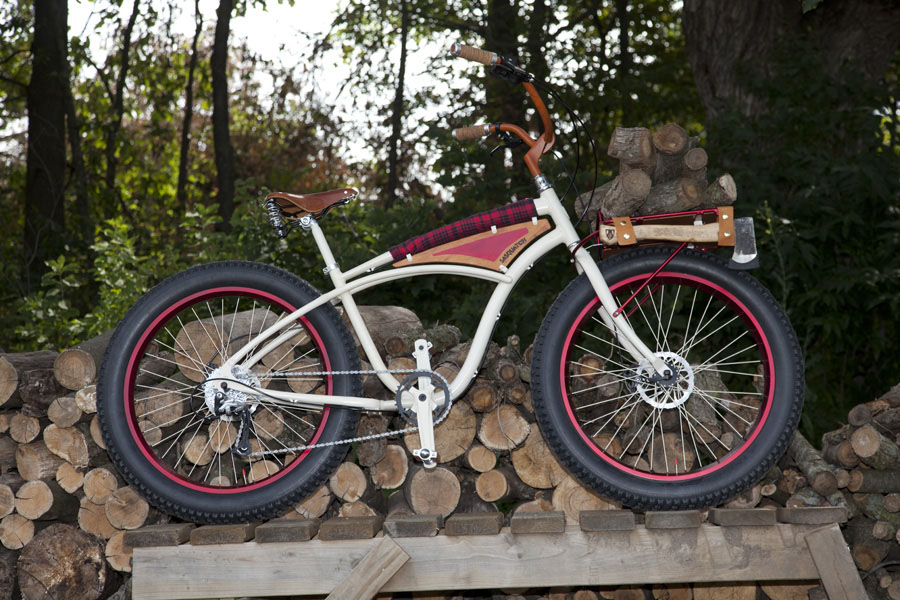 It has been a month or so since I posted a few of the concept bikes and products from TrekWorld 2011. Today, I want to pass along a couple more one off concept bikes, along with the stories behind them from the designers at Trek. Enjoy!
Sasquatch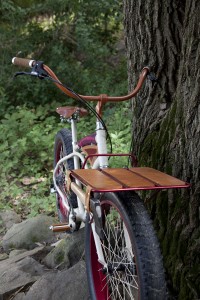 What would a cruiser mashup look like? Probably something like the Sasquatch. Trek's innovation project, the Sasquatch, is a one-off beach cruiser bred with an ATV. It's the juxtaposition of beach and burly in one compelling package.
Let's take the cruiser off the beach and drop it into the forest. Does flannel look as good on a cruiser as hibiscus prints? Can a cruiser carry an ax just as well as it carries a surf board? The intent was to create a capable bike with a fun loving soul of a cruiser.
Sasquatch had the skeleton of a Trek cruiser, but added oversized 26" x 4" tires, a front rack, wood grain painted stems and bars, 1×9 derailleur gearing, an ax holder, leather Brooks saddle and grips, mechanical disc brakes, and wood trim pedals. The end result was a very capable cruiser capable of crushing through the backwoods.
 Will people see the Sasquatch's oversized tire tread on a trail near them soon? Probably not. This was a one-off innovation project designed to create discussion about Trek cruisers. The goal was to help everyone realize there could be more than just one audience for cruisers. Cruiser riders could wear work boots in addition to flip-flops.
Sometimes you need to shake off old, proven conventions and do a little reimagining. Trek's Sand Crawler was about reimagining the classic cruiser. It put the beach back into the beach cruiser.
The Sand Crawler is intended to ride as easily and smoothly on a sandy beach as a classic cruiser would roll on the boardwalk. Oversized 26" x 4" tires keep the bike floating on top of the sand. An internal 3-speed hub keeps the sand from clogging up the drivetrain and the low 32 x 21 gearing keeps the rider pushing a comfortable gear in the sand.  To prove this, Trek built a sand pit in their parking lot to let dealers try out the Sand Crawler.
Despite these modifications, the heart of this bike remains true to the laid-back cruiser soul. The easy-pedaling geometry, classic cruiser bar and trimmings, and a modern beach aesthetic keep this bike true to the flip-flop and board shorts crowd.
For Trek, the Sand Crawler is innovation for the sake of innovation. We're not creating sales, we're creating discussion. We wanted to invigorate the category, ourselves and Trek dealers about cruisers. 
As a category, cruisers have a well-worn formula. The people at Trek used this as opportunity to push on new ideas. Explore the category, gauge dealer feedback, but also prove things to ourselves. We learn from doing. Fortunately, Trek's US-based design, engineering, and manufacturing allow for rapid prototyping so we can get these new ideas out there- be it the pavement or the sand.