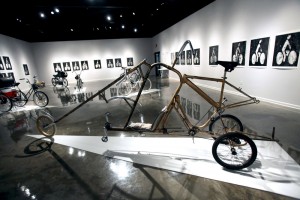 "Frankentrike" by Ted Sliwinski is just one of the bikes currently featured in an exhibition at the College for Creative Studies (CCS) in Detroit. Sliwinski points out that, "In true Detroit style it is made of junk, old bike frames and part of the elevator at OmniCorpDetroit. However, it works and it works well." If you are in the area, check out some of the other bikes from Detroit based artists and builders at the "Tête de la Course" exhibition which runs until November 19th. Read more at KnightArts (via m-bike.org).
Halloween rides seems to be growing in popularity, and in addition to the costumes, it is fun to see bikes that are decorated. I posted one from the Trek Halloween ride a few years ago, and you can see another furry bike from the Boston Halloween ride here. The ride in Boston seems to be a good one, so check out a few of the past photos here.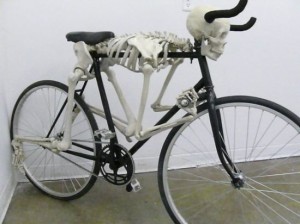 I can't do a Halloween themed post without mentioning a few skeleton bikes. The Bio-Cycle by Jud Turner is one that I have mentioned before, but it is an art piece and not a rideable bike. That is not the case with Eric Tryon's skeleton bike (pictured here). It is perfectly rideable, though I presume the wide ribcage would not allow for a smooth pedal stroke.  This cow skeleton bike also looks like it can be ridden. I don't know who made it (or anything else about it), but it is probably my favorite out of these three.
Finally, I will mention this older thread about Halloween bikes on the RatRodBikes forum. If you have links to any other good pictures of Halloween rides or bikes, mention them in the comments. For those of you who plan to participate in a Halloween ride tonight, stay safe, have fun…and don't forget to post some pictures.
Update: Right after I posted, I noticed some good Halloween cyclocross content on Google +. Check out these photos from UTCX Halloween Cross '11 by Art O'Connor, and this video from Grizzly Adam (via Janeen McCrae). The UTCX Double Cross series confirms what we all know….Halloween and cyclocross are a perfect mix.