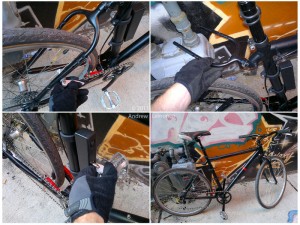 Toronto based industrial designer Andrew Leinonen wanted to find a solution to the problem of urban bike theft- "I realized that in a big city like Toronto or NYC, any lock (no matter how bulky or heavy) can only serve as a deterrent for a determined thief with the right tools." His design solution, the StayLocked bike, integrates the lock directly into the bike's seatstays. While riding, the U-lock shackle is securely clamped into the rear triangle, but when the rider wants to lock up the bike, he or she simply unlocks the shackle, swivels it into place around the post or rack, and slides on the lock body. Since the U section of the lock is an integral section of the seat stays, any thief who breaks it will render the bike unrideable (similar in concept to the Puma Urban Mobility bike that featured an integrated cable lock in lieu of the downtube).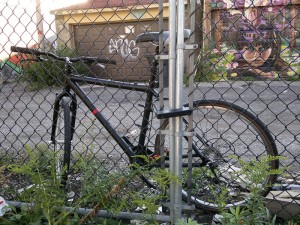 Andrew built a prototype of the concept, which he now rides everyday (over downtown potholes and other rough urban terrain). He points out that, in addition to always having the lock with him, he saves weight by not having to carry an additional chain or U-lock. The only functional compromise he has discovered is slightly unconventional brake layout in the rear, but discs, drums, coaster brakes, or chainstay mounted rim brakes like mini-Vs, or U-brakes are all possible options.
Overall, Andrew is very comfortable with the ride and stability of his prototype frame, but it should be interesting to see how this concept progresses as he continues to tweak a few of the details.