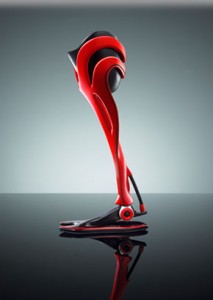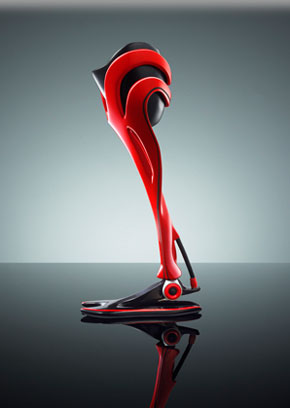 The US winner of the James Dyson Awards has been announced. Cadence, by Art Center College of Design student Seth Astle, is a prosthetic limb and pedal system that makes cycling more accessible for below-the-knee amputees. It offers a full range of motion, and better efficiency than traditional prosthetic limbs. The Cadence prosthetic "has an elastomeric band that collects energy while riding, giving the cyclist added muscle strength.  As the foot rotates, kinetic energy snaps the foot and leg back up and around to the top.  By combining the pedal and prosthetic, the cyclists can clip into the pedal, allowing more control and ease of use."
The split toe design allows the rider to see where he or she need to clip into the pedal, and the special pedal design allows the rider to unclip with a back pedal motion.  Without the muscles in the lower leg, a traditional pivot release pedal system is very difficult for amputees.
As the US winner Seth will receive $1,400 and move on to the international final, announced in November. His design will also be featured in a display at the London Olympics next summer.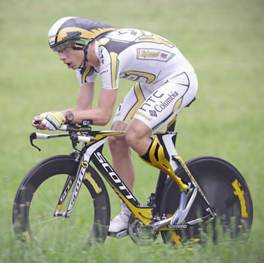 For more information about cycling with a prosthetic leg, check out Amputee in Action (based here in Greenville, SC). The site points out that, according to the Amputee Coalition of America, "there are approximately 1.7 million people living with limb loss" and "one out of every 200 people in the U.S. has had an amputation." If a product like Seth's can help a percentage of those people to experience the joy of cycling, it is certainly worthwhile.