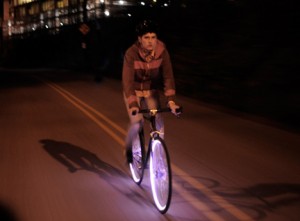 According to the Core 77 blog, "Project Aura is a bicycle lighting system designed to address the issue of nighttime urban bike commuting." The design, by Ethan Frier and Jonathan Ota of Carnegie Mellon University, was recently chosen as the student winner in the Transportation category of this year's Core77 Design Awards. You can read more about the concept in an older post at Core 77.
Unlike similar wheel lights (Cyglo tires and MonkeyLectric spoke lights for instance), The Project Aura lighting system is based on LEDs that are integrated into the rim. The LEDs are powered by a hub dynamo, so the lighting becomes a closed system integrated into the wheels.  Frier and Ota explain the idea behind integrating the lights into the wheels: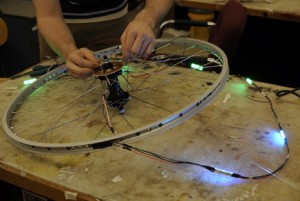 "By illuminating the rims, we have created an immediate formal context for drivers to identify bikers as bikers and take the appropriate measures to drive safely in their vicinity. The goal of the project was to rethink the paradigm of bike lights, while increasing convenience and safely and integrating everything into a package which did not detract from the pure aesthetic of the bike coveted by riders."
As I have mentioned in the past, I use blinking lights and reflective tape on my commuter bike to increase visibility…especially on the rims and pedals. I agree with the point made by the Project Aura design team that, compared to a blinking light, a couple of spinning rings of light allows a driver to immediately identify the source as a bicycle. Though Frier and Ota won the student design award with a working prototype, they acknowledge that their project is still in its infancy. At this point they are continuing to develop the product and hope to someday put it on the market. Sounds good…I'm looking forward to seeing the next iteration of Project Aura.