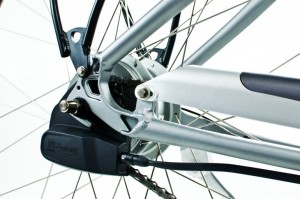 Automatic transmissions for bicycles are not a new idea. One that many of you may remember is the Browning transmission, which was licensed by Suntour in the 80's. More recently, Shimano's Coasting group featured automatic 3-speed shifting, but like the Browning transmission, it was not really a commercial success. Those are just two of many automatic bicycle ideas that have come and gone in the past roughly hundred years, so why, you might ask, should we expect Nuvinci Harmony, a new automatic shifting system designed for the growing e-bike market, to fare any better?
I have been excited about the NuVinci continuously variable planetary (CVP) drivetrain since I first saw it in early 2007.  After trying a NuVinci equipped bike at Interbike in 2009, I was even more convinced that the system provided a user-friendly shifting experience for 'non-enthusiast' cyclists, many of whom are new to bicycling altogether. To me, the addition of an auto-shifting version of the NuVinci N360 drivetrain makes perfect sense, especially for the e-bike market. The NuVinci CVP system has no gear steps, so a rider can maintain a steady cadence as the transmission automatically adjusts to changes in terrain, wind, road surface, etc. As the bike shifts variably, the rider won't feel an abrupt difference, or hear a 'clunk' to remind them that the bike is shifting. Instead, the riding experience will be simple…just pedal and enjoy the feeling of riding a bike. For anyone who wants to shift manually, the Harmony system offers that option at the push of a button. The rider can choose "push button (automatic-only) shifting with three cadence settings (typically slow – medium – fast)" or manual twist shifting, making this system much more versatile than past automatic transmissions for bicycles.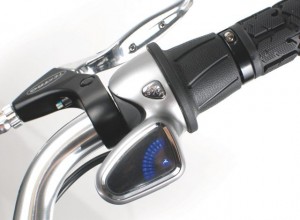 Weight has been one of the recurring concerns that I have heard about the NuVinci hub. Even though the newer N360 hub weighs 30% less than their older model, it is still heavy compared to something like an Alfine 11 hub. Personally, I don't think that weight difference matters all that much on a transportation/utility-oriented bike. On an e-bike though, 800 grams of extra weight is even less significant.
I expect to hear a few negative comments about automatic shifting from some of the hardcore cyclists out there, for whom shifting a bike is already second nature. If your first thought is "how hard is it to click a lever or twist a grip", this product is probably not for you (of course, you are probably not in the market for an e-bike either). Yes, bicycle gearing is pretty simple, but many people who don't ride regularly are still confused about when to shift, especially with a traditional derailleur set-up. It's not that they can't learn how to shift effectively, but some of them just don't want to. More cars are sold with automatic transmissions than manual for that same reason. Sure, there is a still market for stick shift cars (for the record, I have one), but the average driver just doesn't want to think about anything more than pressing the gas and brake pedals. An electric assist bike that can be easily pedaled at a comfortably even cadence might appeal to some of those "blue ocean" potential cyclists out there, for whom understanding the workings of even a simple transmission system holds no interest at all.
You can check out the Harmony press release and data sheet (pdf) on the NuVinci website for more information about the system. Also, Byron from Bike Hugger started an interesting discussion about it on his Google+ page, so I encourage you to take a look there as well. I am curious to hear what you all think about the Harmony system, so let me know in the comments.