It's hard to believe that it is already the last day of August, but Eurobike is now underway in Friedrichshafen, Germany. The show, now in its 20th year, kicked off with a demo day yesterday that broke the previous attendance record.
Bike Biz reports that 350+ new products will be debuted at Eurobike this year. One such launch that the BikeBiz post mentions is the new Smart e-bike, which you may remember as a concept and prototype from late 2010. You can bet that Smart won't the only company launching new electric bikes at the show this week though. With a dedicated exhibition hall and test track for e-bikes, and seminars and education programs focused on the e-bike market, Eurobike is an obvious choice for manufactures to launch new and innovative e-bikes and related products. For more information about programs promoting e-bikes in Europe, check out the European Twowheel Retailers' Association (ETRA) website. You can also take a look at the electric bicycles "Implementation Fact Sheet" from PRESTO for a bit of background on the legislation related to pedelecs and e-bikes in Europe.
As the show progresses, you can check the BikeBiz Eurobike page for posts related to the show. I would also encourage you to follow Bicycle Retailer and Industry News, who posted their first newsletter from Eurobike 2011 yesterday.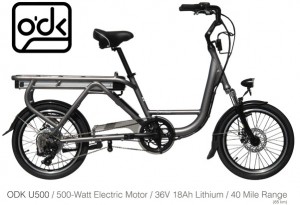 I am sure I will cover a few electric bikes from Eurobike in another post, but for now I want to mention this 20" wheel cargo/utility electric bike, which was just launched by Juiced Riders. According to company founder, Tora Harris, "the bike slots in between typical commuter bicycles and the heavy cargo bicycles."
"The main features of the U500 E-Bike are a 40-mile range using a 36V 18Ah Lithium battery stored under the extended integrated rack, 500W rear motor, step-through frame, 20-inch wheels, 7 speeds, and disc brakes."
Read more about the bikes on the Juiced Riders website, and be sure to watch the 43 min documentary for a behind the scenes look at "the exhausting process of getting the bike manufactured in China." Pretty Interesting.