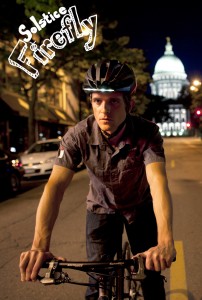 Quite a few things have been distracting me from the blog lately- a heavy workload, my kid's 'back to school' activities, and a couple of pressing local bike advocacy issues.  On top of all that, I am trying to follow that new race in Colorado, which I can never seem to remember the official name of, so it is shaping up to be a busy week.  Today though, I want to take a quick break from the madness and pass along a few more concepts from TrekWorld.
The Firefly commuter helmet designed by Robert Perri features a flashing or constant red LED light in the rear. Unlike similar helmets though, it also features an integrated strip of powerful white LEDs in the front. The concept helmet has a rechargeable lithium ion battery and can be operated by way of a push button switch under the visor.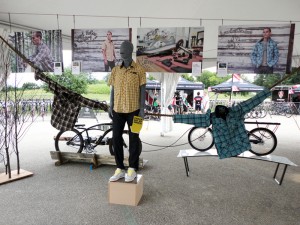 The Bontrager shop shirts and jackets, designed by Ryan Gallagher, were also on display for dealers visiting Trek World (correction 8/29: Ryan designed the shirts, but he jacket was designed by Carline Rindt). The Real McCaw shirt features tool stash pockets that make it perfect for any bike mechanic. It's not just for wrenching though… it features mesh underarms for cooling and is cut for on or off bike comfort. The LumberJacket has thermocore insulation and a water shedding nylon back, so it works well on or off the bike too. Pretty cool stuff, but don't look for any of this in the line next year. Like most of the other concept products presented at TrekWorld, these are "design explorations created to start a dialog about possibilities and capability."
See more images of the Firefly helmet and Bontrager apparel concepts below.