Wow, that was an exciting day in the Tour! I won't give anything away for any of you who didn't watch it live, but I will say that watching the stage this morning put behind a bit on work that I need to get done today. I couldn't take my eyes off the screen, but now I need to focus and catch up so I am not working too late on a Friday. First though, I want to pass along a few interesting links, some Tour related, but mostly not.
At Bicycling Magazine's "The Hub" blog, Garmin-Cervelo mechanic Kris Withington gives a video tour the Cervelo R5 CA that Tom Danielson is riding in the Tour de France this year. Definitely a nice bike! If you are looking at pro bikes from this year's Tour though, one that you can't miss is Thomas Voeckler's yellow Colnago C59. Check it out in a photo feature at VeloNews.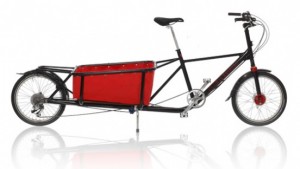 Though not a racing bike, the 8 Freight cargo bike looks pretty fast for a utility oriented cycle. The bike, which features a lightweight aluminum frame with a monoblade fork and a single-side wheel support in the rear, was designed in the UK by (you guessed it) Mike Burrows. Check out the website's gallery for detail shots of the bike, and see this review in VeloVision for more information.
Since I mentioned the INgSoc bicycle in a post recently, I have noted a few other bike designs at the Tuvie design blog. The Epitaph cruiser bike and the Sorena full size folder are two that caught my attention lately.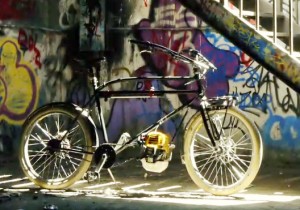 I post about electric assist bikes fairly often, but Wiley Davis sent me a video showing a gas motor assist bicycle that he recently built. He explains that "it uses a 35cc 4-stroke engine and a driveline geared to work with my pedaling cadence of 100rpm. I designed and built the bike from scratch out of brass-brazed 4130." So far he has around 1200 touring miles on the bike and says that "it gets anywhere from 200-300mpg depending on load and terrain." Recently, he rode it from San Diego to Las Vegas in two and a half days while towing a 50lb trailer.
Finally, I want to mention Flipphandle, a patented bicycle stem that allows handlebars to be turned 90 degrees for storage with the push of a button. Read more about it on their Kickstarter page.