Here in the U.S., May is National Bike Month. I will probably be posting more often than usual on my local cycling blog, as we have quite a bit planned throughout the month here in Greenville, SC. I hope you are all finding ways to use Bike Month events to encourage cycling in your local communities as well.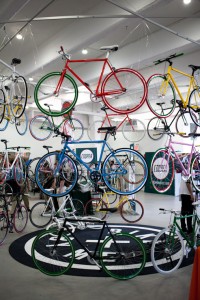 Bike Month in NYC kicked off early on Saturday, April 30th with the New Amsterdam Bicycle Show. Bike Hugger was there, and participated on a panel about "the influence of blogging on bike infrastructure" with bloggers from Streetsblog, Brooklyn Spoke, Amsterdamize and NYC Cycle Chic. From a Bike Blog NYC post, I saw that Dimitry Gudkov posted some nice photos from the show (including the one pictured here). From his post, be sure to follow the link to Jessica Cassidy's write-up of the show. NYC Bike Maps is another good source for photos from the show. It looks like this first New Amsterdam Bike Show was fairly small, but hopefully it will become an annual event and continue to grow.
New Amsterdam wasn't the only bike show happening this past weekend though. The 2011 Spezi (Special Bikes) Show took place in Germersheim, Germany (near Heidelburg) 2011 on Saturday and Sunday. If you haven't heard of the show, this tagline from the wesite explains it. Spezi is "Europe's largest show for recumbents, recumbent tricycles, quadracycles, folding cycles, tandems, family cycles, velomobile, transporters, electrical bikes, special needs bikes, kick scooters adult, child and load trailers, customized designs, accessories." The first pictures from the show are already up on the site, so check again soon for more. VeloVision also promises to have a thorough report from Spezi posted soon, so check back for their coverage.
Update: A highlight report from the SPEZI show is now up on VeloVision. Check out the side by side velomobile in the first pic, and in a few of the other images. I'll be looking forward to seeing their video reports from the show as well.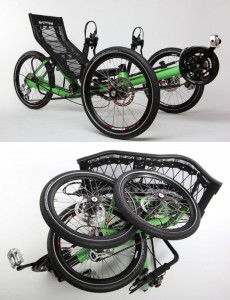 Juan Diaz mentioned on Twitter that the Azub folding recumbent trike (pictured here) was getting a lot of press at Spezi 2011. He also mentioned that there are at least two other companies with folding recumbent trikes on the market. HP Velotechnik has the Scorpion fx, and ICE offers a few different models.
Speaking of German tradeshows, I read something interesting recently in the Eurobike newsletter. With fuel prices continually rising in that country, the sales figures for e-bikes have almost tripled in the past four years.  In 2010 alone, 200,000 e-bikes were sold in Germany. The German Cycle Association's Managing Director, Siegfried Neuberger speculates that "on a medium-term basis, e-bikes could make up between 10 and 15 percent of the overall cycle market in Germany, and that means something like 400,000 to 600,000 bikes." Maybe not on the same scale, but the same thing will happen here in the U.S. at some point…once we get past the idea that bikes are just recreational or fitness tools.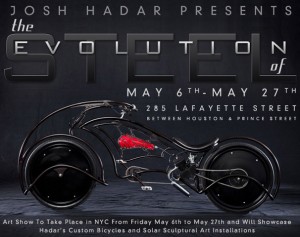 I have mentioned Josh Hadar's sculptural bicycle and tricycle designs on the blog before. If you are in NYC, you can see his work from May 6th through the 27th at 285 Lafayette Street. In addition to his bikes, Hadar will be showing "New York's first solar powered electric vehicles as well as his one-of-a-kind photovoltaic steel trees". The exhibition, "The Evolution of Steel", is part of the New Museums latest initiative, The Festival of Ideas for the New City.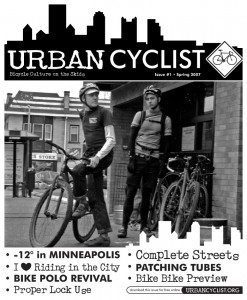 Finally, I want to mention something that is not a show or event, but definitely a milestone. The release of issue #25 this month marks the start of the 5th year of business for Urban Velo, a publication that I have been reading since issue #1 (when it debuted as Urban Cyclist for a very short time). It's hard to believe it has been that long since the first issue, but I guess I have been writing this blog for longer than I realize too. Oh well, congrats to Jeff and Brad on 5 years of business…. I am hoping for at least 5 more. Glad they changed that name too. Urban Velo has a much nicer ring to it.