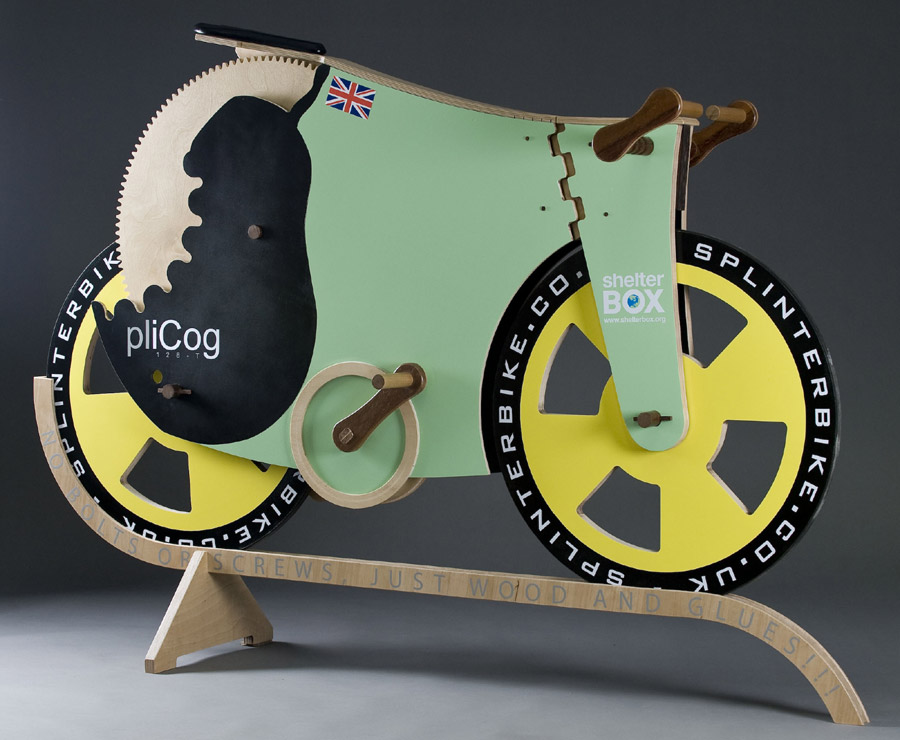 I have posted about quite a few wooden bikes in the past, but none quite like this one. The Splinter Bike, created by British craftsman Michael Thompson is made entirely out of wood, without a single piece of rubber or metal. Aside from glue and paint, the entire bicycle (drivetrain, bearings, axles, and all) is made from various types of hardwood.
A Bike Biz article about the Splinter Bike explains that the project started as a bet:
"Thompson, a joiner, boasted he could make a fully wooden bike and his friend James Tully called his bluff.
The cogs, wheels and frame are made from birch ply. Ironwood – an oily wood – is used where moving parts meet. The pedals and handlebars were made from an old broom handle. There's no chain. Instead there's a 128-tooth cog that links the chainring and the gear on the rear wheel."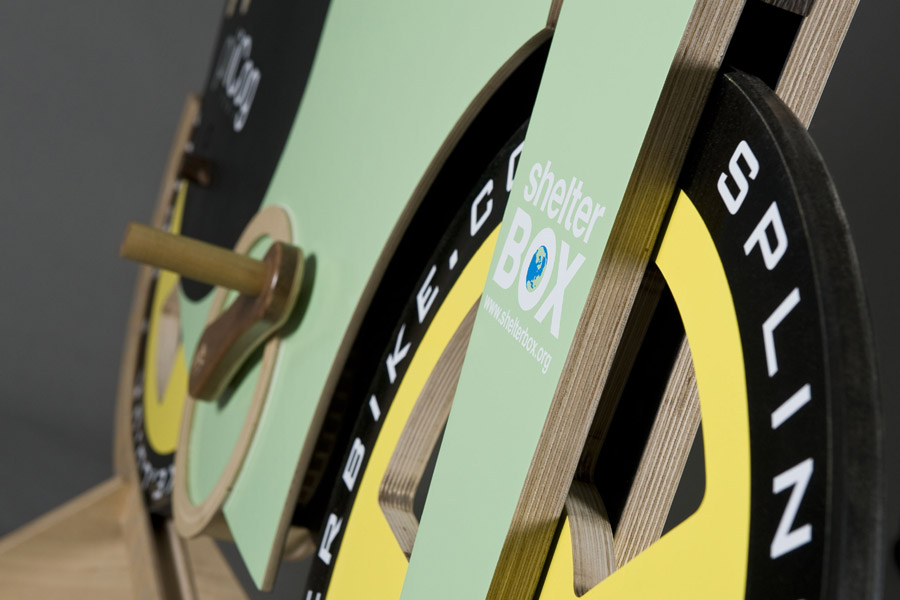 It is a pretty impressive design exercise, but apparently simply building the bike wasn't enough. With Tully, an accomplished triathlete, riding the bike on a velodrome, Thompson plans to break the "100% Wooden Bicycle Land Speed Record". Well…not exactly break the record, since no such record has been attempted before. They do plan to set an official record with the Splinter Bike though.  Initially, Thompson and Tully "didn't realize that setting a land speed record involves certain unavoidable costs." As Thompson says on his website, "We thought that we could knock up a wooden bike and run it down the road, follow along in a car, check the speedo and hey presto… we've just set a land speed record!" It is not that simple though, so they are now trying to raise £7500 to pay for the specialized speed measuring equipment that they will need.
Thompson has documented the building process on his blog. Now that the bike is complete, it is interesting to look back and see the earlier prototypes and drawings.  Most of the posts are interesting, but I particularly liked the one that showed how the wooden tire surface was enhanced with 3.5mm of grippy adhesive. It doesn't look like the most comfortable ride ever, but it definitely beats a raw wood contact surface on the track. It should be fun to continue to follow the blog as the bike undergoes testing and refinement before the official record attempt. I will definitely be watching to see how that attempt goes…best of luck to Michael and James.