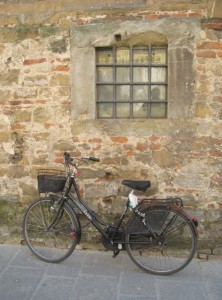 I am finally back in the U.S. after a really great trip to Italy. I spent an exhausting couple of days in Milan at start of the trip for Salone del Mobile and other Design Week events. After that, my wife and I traveled to Florence and Rome for a much needed week of vacation. I chose to travel light and leave the laptop at home this trip, so needless to say I am a bit behind on the blog and emails. If you sent me anything in the last couple weeks, please be patient. I have only been in my office a couple days this month, so it will definitely take a while for me to catch up with work and get back to regular posting.
I took a lot of pictures on the trip…and it probably won't surprise any of you that many of them feature bicycles. I'll post a few of those to my Flickr account when I get a chance to sort through them all. Most of the city bikes I noticed on the street were from Italian brands, but I did see quite a few road bikes from American companies… definitely a noticeable increase from what I observed on my last trip to Italy (in 2003). On that previous trip, the vast majority of road bikes I saw were Italian, but this time I also spotted road bikes from Specialized, Cannondale, Scott, Trek, Felt, and Cervelo (Canadian I know, but close enough). I guess that follows the same trend in the pro peloton over the last five to ten years, so it was not a surprise to see that the sponsorship and marketing efforts (especially those of Specialized) have paid off. Of course, I also noticed bikes from Italian brands that I have never seen in the States; Denti, Carraro, Saccarelli, and Milani are just a few that come to mind.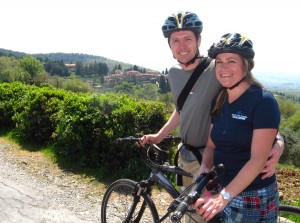 One of the highlights of our trip was a beautiful ride from Florence to Siena with I Bike Tuscany. Marco, the owner of the company, picked us up at our hotel, set us up with bikes and helmets, and provided great support for the ride (which included a stop for wine tasting in the Chianti region). Since this was a combination business trip/ vacation, we wanted to travel light, but didn't want to miss out on riding while we were in Tuscany. We had briefly considered renting bikes to explore the Tuscan countryside on our own, but I didn't have much time for planning since I was in China the weeks prior to this trip. In the end, the full service single day tour with I Bike Tuscany turned out to be perfect for us. Every detail was planned for us, so all we had to do was be ready to ride on the morning of our scheduled pick up. The ride really was one of the best parts of the trip and I would recommend it without hesitation to anyone visiting Florence.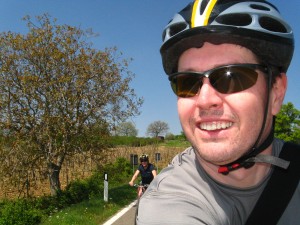 (Note: I paid for this tour, so my endorsement is not based on a freebie or discount. It was just a great overall experience that I want to share with any of you who might be interested.)