I am still in catch up mode at work after a few weeks out of the office, but I want to quickly pass along at least a few of the links that have collected in my inbox while I was away. So without further ado (can't believe I actually wrote that), here they are in rapid-fire fashion.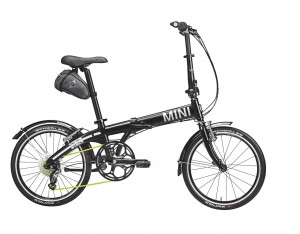 Bikes from car companies are nothing new, but MINI is the latest to offer branded bicycles. Not surprisingly, their bike is a folder, which appears to be made by Dahon.
Speaking of car companies, Cadillac has a bike related feature on their CNN Money 'Business Unusual' series this week. In episode five, they share the story of Carlos Perez, founder of Bike Monkey, who "quit a six-figure job to pursue his passion: bike racing." Impressive…now I just need to figure out how to make some money from this little blog of mine. Seriously though, watch the episode here (just ignore that little part at the end where the host chooses a car over the bike)…and congrats to Carlos on the exposure.
I mentioned the Alabamboo bike project not long ago. This week, the team is raising money on Indiegogo so that they can cycle across America in June, on bikes made from Alabama bamboo, to raise awareness for the Alabamboo initiative. The four rides plan to pedal west for two months, stopping at various locations to shed light on the sustainability, alternative transportation uses, and the environmental benefits of bamboo. They only have a couple more days to reach their goal, so help out if you can.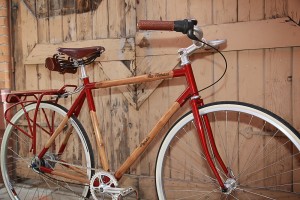 On the subject of bamboo bikes, Panda Bicycles is a Fort Collins, CO based company that specializes in "hand crafted steel lugged bamboo frames." Those steel lugs are what differentiates their bamboo bikes from others on the market. According to co-founder Jacob Castillo, the joint design and frame fabrication process are patent pending. Read more about the bikes on their website.
Evan Solida's Cerevellum digital rear view cyclocomputer is a product that I have mentioned quite a few times before. Bike Biz points out in a recent article that the company has received funding to proceed with production, and will exhibit the product at Interbike in 2011. After trying the rough prototype a few years ago, I can't wait to try out a production unit.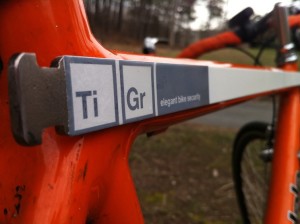 Graphic designer Joshua Newman and industrial designer John Loughlin have a new bike lock design, called the TiGr lock, that they are Kickstarting right now.
Alex Vessels also has a bike related project on Kickstarter– streetwear made with retroreflective elements. Check out both projects, and help them make their goals if you can.
I have many more links to pass along, but I will save those for another day. For now, I just want to close with a contest that might interest some of you. KLM Royal Dutch Airlines USA and the Netherlands Board of Tourism and Conventions are teaming up to offer two winners the chance to "bike across Holland while hosting their own web-series." To enter, you and a friend can submit a video (up to two-minutes long) showcasing your personalities and explaining why you deserve the chance to bike across Holland. You better hurry though, because submissions are due by this Sunday, May 1st, and a winner will be announced the following Monday. Visit the "Just Be In Holland" Facebook app for more info and to enter. Good luck!