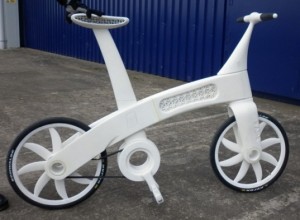 I have seen quite a few different posts today about the EADS 'Airbike' (named after the EADS subsidiary Airbus).  The European Aerospace and Defense Group created this bicycle to demonstrate their Additive Layer Manufacturing (basically 3d printing) process. The official EDS press release explains that the nylon structure is 'grown' from a fine powder, allowing complete sections, including wheels, bearings and axles, to be created in place all together. In addition to the nylon material, EADS is working with metal powders (titanium, stainless steel, and aluminum) as well as carbon-reinforced plastics to build complex objects with ALM. As a manufacturing demonstration, this is an impressive project with multiple precise moving parts that are created "using computer-aided design and then constructed by using a powerful laser-sintering process which adds successive, thin layers of the chosen structural material until a solid, fully-formed bike emerges."
Like I said, a great demonstration of the technology, but I don't expect to see complete bikes being created this way anytime soon, as some of the "bike of the future" posts I have read today would lead you to believe. I am not the only one who thinks that some of the stories on the web today about the Airbike seems a little farfetched though. Andrew, one of the many readers who forwarded a link about this project to me, questioned the claimed weight reduction over an aluminum bike that many of the tech sites seems to be to focused on. "The 65% weight reduction is for a generic machined part, not an optimized structure like a bicycle." Still, Andrew points out, "the design freedom of 3D-printing does let you experiment with some interesting monocoque structures, and at least it's getting creative manufacturing and bikes in the news."
Shifting gears a bit, I want to mention the Vélo-retro vintage bicycle event, which will take place along the Loire valley in France on June 19th. Anthony Sanchez, an organizer of the event explains:
"This French original and friendly event will gather all the people interested in the retro bicycles, fixies, single speeds…  It also concerns the nostalgic of the legends of cycling racing and vintage lovers."
Sounds like fun. Read more about the event, and check out the gallery photos, on the website.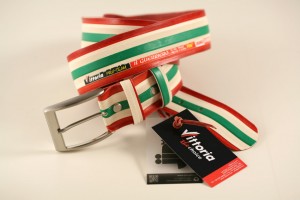 I have seen belts and accessories made from used bike tire before, but the ones from Jiro Belt are the most stylish by far. I especially like the limited edition Giro d'Italia belt made with Vittoria "Il Guerriero" tubulars.
Cyclingmobility, is a new quarterly magazine for professionals involved in urban planning, cycling policy, and mobility research and development. It will be available on a subscription basis only (including online access) or as an iPad app version.  It looks pretty interesting so far. Check the site or follow them on Twitter for more info.
Finally, I want to mention that the 2011 London Cyclist top 50 Bike Blogs list is out. Bicycle Design made the #11 spot this year… not bad when you consider the quality of all the blogs chosen. I already found a few good blogs that I was not familiar with, so make sure you check out the entire list.