The 2011 Taipei Cycle Show is underway, which means that the winners of the winners of the 15th annual International Bicycle Design Competition (IBDC) have been announced. Cycling Satin Cesena has photos and descriptions of all the winners, but you can see the Silver Award winning 'Sommerset' folder with an intergrated shopping bag pictured here. Also check out Cycling Satin Cesena's photo galleries from the show. Days 1 and 2 are currently up, and you can watch the blog for more photo coverage.
The first Show Daily features part one of a 'Blue-Ocean Chronicles' trilogy by Mark Sanders.  It's an article that I think everyone in the bike industry should pay attention to (and I am not biased just because my son is pictured in the collage at the top). I particularly like the example of an average guy shopping for cosmetics to explain how a non-cyclist feels walking into a typical bike shop. Good stuff…I'm looking forward to reading parts 2 and 3 of the series.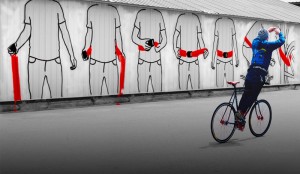 Though messengers often do it with oversized chain locks, Hiplok is the world's first bike lock designed to be worn on the body. It was designed and developed by two industrial designers in the UK and USA. You can read more about this lock belt at Cyclelicious.
By day, Merlin Crossingham is the Creative Director for Wallace and Gromit. In his spare time though, Merlin is building his first wooden bike. He set up a blog to chronicle the process, so let's along follow along and see how it goes.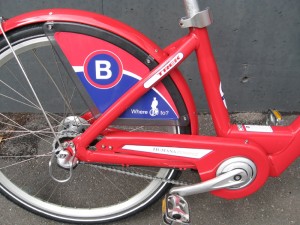 I have mentioned the B-Cycle bike sharing system on the blog before. Yesterday, I had a chance to check out a station in person and ride one of the bikes. You can see a few of my pictures on Flickr, and read more on my local cycling blog.
Finally, I will mention my guest post today at 'The Selection', Bicycling Magazine editor Bill Strickland's blog. While you are there, check out the previous guest posts by Simon Lamb of La Gazzetta Della Bici, Cosmo Catalano of Cyclocosm, Brian at The Washingmachine Post, and The Inner Ring. Those guys are excellent writers, so it is definitely and honor to be included in that bunch.