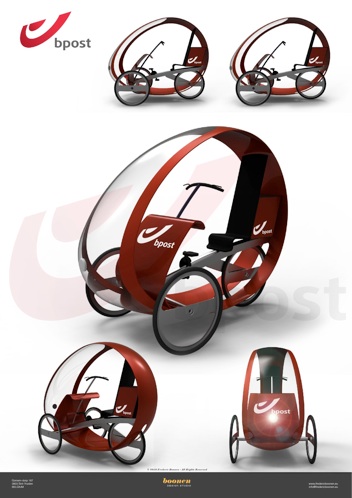 If you have been reading this blog for a while, you will remember Torkel Dohmers' "ThisWay" concept, the winning entry in the Bicycle Design "commuter bike for the masses" design competition a couple of years ago. You may also remember that the pick was not without controversy. People seemed to either love it or hate it, but Torkel's concept did spark some interesting discussion on the blog. Previous bike designs with integrated roofs were referenced in the comments… most notably the Cycle Sol, which Ron at Cozy Beehive also mentioned in a blog post. The Cycle Sol was just one example though. If you browse through Bicycling Science or similar publications, you will see several past design attempts at a bike that will keep its user dry in the rain.
The latest covered design that has come to my attention is the semi-recumbent Rain Bike for the Belgian Post Group, designed by Frederic Boonen. Similar to the "This Way" concept, the designer describes the Rain Bike as "a gap between bike and car." Unlike Torkel's concept, this one is a trike with an electric engine to assist commuters (or mail carriers) with a cargo load up to 60 kg.  Even though it is a trike, Frederic points out that the overall width of 120cm makes it usable on bike paths and roads.
So what do you think of the Rain Bike…or the idea of a covered bike/trike in general? For certain applications, including mail delivery, I think it makes a lot of sense.
Update: A few people have expressed concern about the polycarbonite windshield in the comments. Frederic just sent me an email stating that "the window is layered with nanocoating (Fluor Carbon) based on the Lotus Effect."