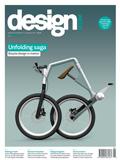 "The bicycle industry needs to move away from unsuitable sporty racing bikes and focus on the needs of non-enthusiasts if cycling is to become a mode of transport used by the majority."
That is the opening sentence in a Design Week (UK) cover story this week (which I discovered via Bike Biz).  If you have read Mark Sanders' guest post on this blog, or seen his keynote presentation at the Taipei Cycle Show in 2009, you will probably not be surprised to find out that he is mentioned in that article ( and his latest iF folding bike is featured on the magazine's cover). In the article, Mark says:
"Design and innovation are vital to change the usefulness and image of the bicycle. If the bicycle is to become our cities' principal form of transport – as it is in cities in Denmark and in Amsterdam – then designers must start to focus on the 'blue ocean' of 'non-enthusiasts'. More bicycles are now produced than cars, yet 'the bicycle industry still continues to fuel trends towards using unsuitable sporty and racing bicycles around town."
Even though I personally ride a 'sporty racing bicycle' around town, I agree that my choice of commuter bike is not necessarily a feasible solution for the average person. I have written on that subject quite a few times in the past, so I won't rehash it all here. I am curious to hear your thoughts on the Design Week article though. Is the industry as a whole still too focused on 'preaching to the choir' with the design and development of sport and recreational bikes for those of us who already ride? Are the existing transportation/ commuter oriented bikes just based on trickle down racing bike technology, or do you think they actually meet the needs of potential 'blue ocean' non-cyclists? I could probably use examples to argue both ways, but I am curious to hear what you all think. Let me know in the comments…I would love to see some good discussion on this subject.