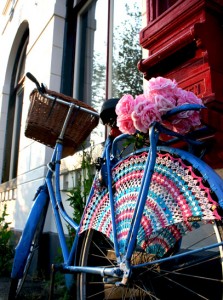 Crocheted dress guards have been around for a long time. In the late1800's, women quickly figured out that rear wheel guards were the best way to prevent flowing dresses and skirts from getting caught in the spokes while riding. Now, a Dutch company, Simeli, is making hand crocheted dress guards for traditional upright bicycles with fenders. Simone points out that her company's dress guards are offered in 10 color combinations ranging from bright and cheerful (model Ananda) to demure chic (model Antoinette). They also offer matching key rings for each of the models (since Dutch bikes typically have an integrated rear wheel lock).
I noticed this morning that Cyclelicious mentioned Simeli today as well.  Read more there, and be sure to follow the link to Lovely Bicycle for a review and more photos.
Speaking of chic cycling accessories for ladies, there is a new shop here in Greenville, SC that I have been meaning to check out. Pedal Chic claims to the "only women-specific cycling and athletic boutique in the Southeast." In addition to apparel, they sell commuter accessories for women as well (bike baskets, designer helmets, shoes, and cycling-friendly handbags). They have a blog too, so check it out if you are interested in cycling fashion.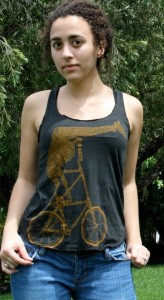 Keeping the fashion theme going, check out the bicycle t-shirts and housewares from the Dark Cycle Clothing Etsy store. I like the giraffe on a tall bike, but they have several other animal on bike designs to choose from. Via the Etsy blog.
MocoLoco recently featured recycled horse-skin leather bicycle grips designed by Sruli Recht for Kria Cycles' upCycle bike.
Finally, I want to mention a new web show from ENGINEERING.com called The Product Design Show. The show will feature new topics every Thursday, but they are debuting today with an episode on bicycle designs- past, present, and future. It is sort of a quick, broad overview, but it is pretty entertaining so take a look.