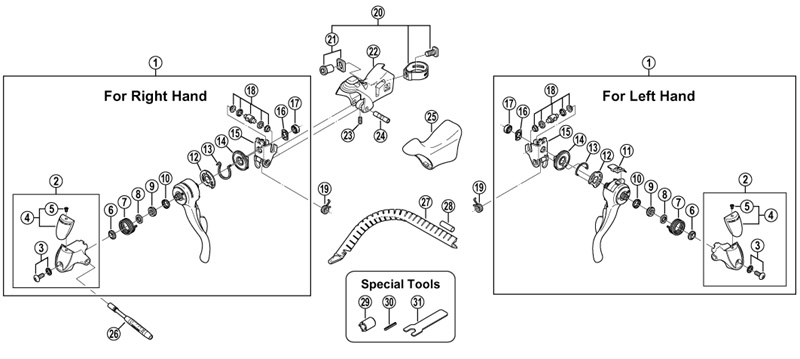 I have two pairs of old non-functioning Shimano STI shifters sitting on my workbench at the moment- a 9-speed Ultegra set and a 9-speed Dura-Ace set. Unlike Campy and SRAM shifters, Shimano's are not intended to be serviceable. Basically, when they wear out Shimano expects you to just pony up the cash for a new pair. I have successfully extended the life of STI shifters in the past by flushing them with something like carburetor cleaner to remove the gunk built up inside, but I have never attempted to take one apart and do a complete rebuild.
Well, it's about time to give it a try. I need to use of the pairs on my cyclocross bike, so I am ready to take on the challenge. Norvil.net has good step-by-step instructions for disassembling a ST-7700 lever like the one I have. That, along with the exploded parts diagram from Shimano should be enough to get the right lever apart (and hopefully back together again). My plan is basically just to disassemble and clean them. If any parts are obviously worn, I'll have to seek them out since Shimano does not make replacement parts available.
Anyway, I'm just curious if any of you have done any work like this on STI shifters? If it doesn't go as planned, I can always upgrade my cross bike with a pair of these new Di2 shifters with satellite buttons for shifting in the drops. Yeah…maybe not, but the price of new shifters definitely serves as incentive to get the old ones working again. Wish me luck, and feel free to share any tip you might have.