Well, it's Friday… the end of another busy week. I am pressed for time, but I want to quickly pass along a few of the links that I have noticed in the past week or so. So in rapid-fire fashion, here it goes.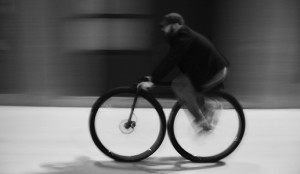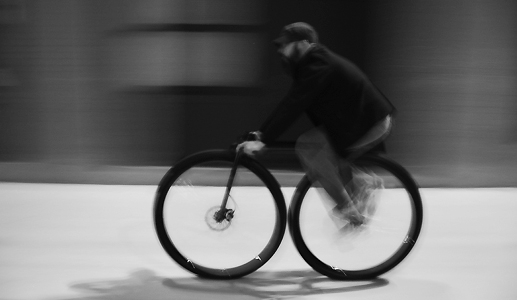 I mentioned jruiter +studio's city simplicity bike in a past post. Now they have a new version of the bike with big 36" wheels. Find out more at Inner City Bikes.
Mohsen Saleh has been working on a bike with a prostrate riding position. Read more about his "Pro-straight" design on his blog and let him know what you think.
Paul Goodman Changed My Life is a documentary about the man who, in 1961 with his brother Percival, published the essay Banning Cars from Manhattan in Dissent magazine. The people behind the film are sponsoring a contest to encourage people to reduce global warming and improve transportation options in their own communities. Winners in the US and Europe will receive new bicycles from Breezer and Biomega, respectively. The contest is co-sponsored by the Alliance for Biking & Walking, the World Carfree Network, the Bicycle Coalition of Maine, and Dissent Magazine. Find out more about the film and the contest at the Paul Goodman Changed My Life website.
Treehugger recently posted 407 Bicycle Solutions: The Very Versatile Velocipede. It is a pretty thorough collection, organized by category, of some of their bike related posts from the past. Definitely worth a look.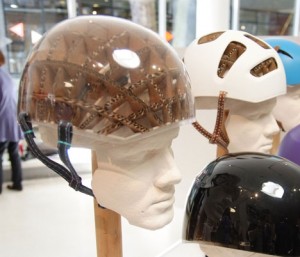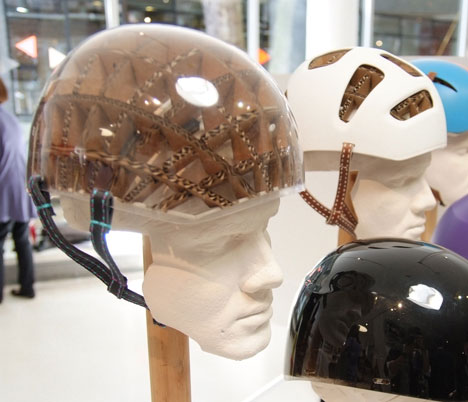 This student designed cardboard helmet concept has been spreading around the web since it was presented at the London Cycle Show a few days ago. I guess the clear acrylic shell might keep rain from ruining the ribbed cardboard structure, but I wonder if the cardboard would wick sweat from the wearer's head.
Speaking of Cycle Show, the B.O.N.D (Built of Notorious Deterrents) Bike, which features an ejector seat and flamethrower, is on display there now.  I am pretty sure that Pee-Wee's bike had those features years ago, but this one goes one step further with the caterpillar track and front ski blade. Check out this Cyclelicious post for the real story about this bike, which was actually created to sell insurance.
Though not a bike, these very cool chandeliers by Carolina Fontoura Alzaga are made from recycled bike parts. Via Treehugger.
T-shirts, notebooks, canvas prints, and… bicycles? The 2011 Hot Milk bicycle collection from Italy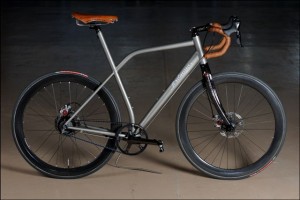 Jeranimo Cycles is a small company located in Tenerife, Canary Islands. One of their latest bikes, the Slütter is a belt-drive Shimano Alfine model based on a unique titanium frame. The bike was designed to be an "all in one" solution. According to the designer, "You can use this bike in the morning on the road, and in the evening attack the best singletrack on your favorite mountain. Simply change the wheels and handlebars and you are ready for a new adventure!"
The Hanebrink all-terrain electric bike is definitely an interesting vehicle. See a video of it in action on Green Overdrive.
This Copper plated Brompton by Tom Dixon was on display at the London Design Festival recently.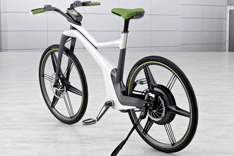 Finally, I will mention the new pedal assist e-bike that Smart Automobile unveiled at the Paris Auto Show. The most interesting feature is the integrated iPhone/smartphone dock. The docked phone can display speed, distance, heart rate, etc. It also serves as the control center for motor and battery functions. Overall, it sounds pretty interesting… read more about it at Cyclelicious.