It's that time of year again, Interbike is getting underway today in Vegas (for the last time in a while at least). I had a great time at the show last year, but unfortunately I couldn't fit it into my schedule this week. Instead of being there to see everything in person, I'll have to rely on internet coverage like many of you. The good news is…there should be no shortage of great coverage on the web. My Twitter stream is already full of tweets and pics from people on the show floor, so I am counting on them to keep me informed. I'll be checking all of my usual sources as well, including of course, the official Interbike blog. Look for a post about the show sometime early next week.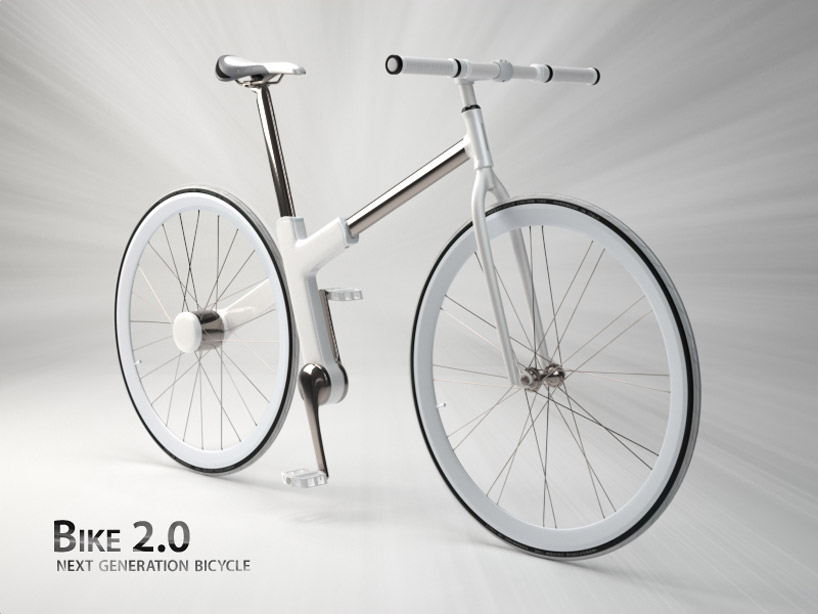 Today, I want to point out the results of the Seoul Cycle Design Competition. The Grand prize went to Bike 2.0, a "one size fits all" e-bike designed by Nils Sveje of Inoda+Sveje Design Studio. Be sure to check out the "making of" the Bike 2.0 project page on their website for a bit of insight into the idea behind this concept bike. In you are interested, you can see all 190 of the shortlisted entries on designboom.
Speaking of concept bikes, I encourage you to read an excellent blog post by Sabinna Den titled, Bicycle Innovation, Bicycle Design, the Laws of Physics and Imagination. She starts off by referencing a folding bike concept that I posted last month. The concept was creative and interesting, but it did have pretty obvious issues indicating that the designer probably didn't "know much about bicycle steering dynamics" as one commenter suggested. I occasionally hear from readers who tell me that I shouldn't post "unrealistic" rendered concept bikes on the blog. I wrote a post on that subject last year, and I still follow the same guideline when it comes to deciding what to share here… basically, I just have to find something about the design that interests me.  In the 5 years that I have been writing this blog, I have found that the most controversial concepts are the ones that tend to generate the most comments. I like to see that discussion, so you can expect to continue seeing "blue sky" rendered concept bikes pop up here from time to time.
On that note, I would love to hear your thoughts on Sabinna's post. Leave a comment here, or better yet over at her blog. If you don't read Cycling Satin Cesena already, I encourage you to add it to your bookmarks. Sabinna's thoughts on cycling, bicycle design and manufacturing, and the bike industry in general are always very interesting.