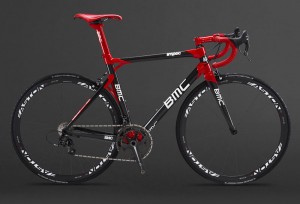 This post would have been timelier last month during the Tour when Cadel Evans and George Hincapie were first riding the new BMC 'impec'. I planned to post about it at the time, but as so often happens it sort of slipped through the cracks. Though it is not exactly a breaking story at this point, the new bike from BMC is still worth a mention on this blog for a couple of reasons. BMC touts the impec (short for impeccable bike) as the "first entirely machine manufactured carbon frame in the world." Unlike conventional laminated carbon frames, which are laid-up and glued together by hand, the carbon tubing on the impec is woven by a patented robotic loom, which BMC specifically developed for frame construction to achieve precise load-bearing properties for each of the tubes. According to BMC, the robotic tube weaving "rules out human error and guarantees constant, millimetric precision."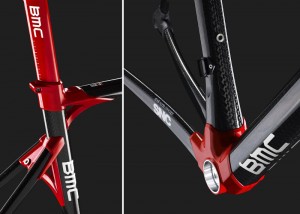 Compressed carbon composite half-shells with "a high proportion of extra-long carbon fibers" are used to join the machine woven tubes of the impec.  The "Shell Node Concept" as BMC calls it (I would probably just call them lugs) makes for an interesting visual frame design that is quite different from other high-end carbon road bikes on the market.
The impec will be available to the public in September. Each bike will be custom built for private buyers, who will be fitted for the bikes at BMC dealers. For more information about the bike, including available build options, check out Bike Radar's first look.
Update 9/2/10: The impec just won a Eurobike gold award. More on that at Bike Biz.