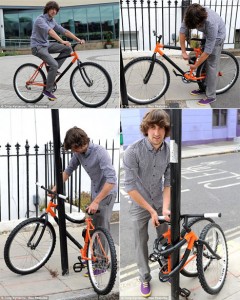 A few days ago, Carlton Reid tipped me off to this London Daily Mail article, which features a bike design by Kevin Scott, a young UK based designer. To address the rising problem of bicycle theft (according to the article, more than 52 bikes are stolen in London every day), Mr. Scott designed a bike that literally "wraps around a lamp post so it can be locked-up safely – without the need for a lock or chain." A ratchet system built into the top and down tubes allows the frame to bend when a lever on the seat tube is released.
It seems like an interesting concept, but honestly I would probably be a bit nervous at cruising speed knowing that an accidental flip of that big switch would turn the frame into an uncontrollable mess of noodle like tubes. Maybe there could be a fail-safe to keep the switch from working while the bike is moving. I am sure there are many other issues that need to be addressed before a concept like this could become a real product, but that is what the product design development stage is for. For now, Mr. Scott has an interesting idea that I believe is worth further exploration.
Scott's concept is a runner-up in the UK's Business Design Centre New Designer of the Year Award. The Core77 blog also posted about this design and they point out that he is dumping the award money back into the project for further development. That is good to hear. I'll look forward to seeing the next iteration of his design.
Image credit: Tony Kyriacou/Rex Features via Core77