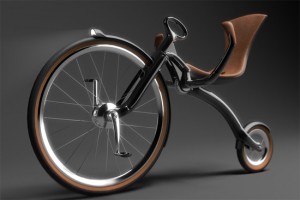 It is almost the weekend, so I will leave you with a handful of fun links for Friday afternoon. Designboom posted a few bike designs by Peter Varga, including the glossy modern folding penny-farthing concept pictured here. While you are at Designboom, take a look at all the recent posts tagged with 'bikes". It has been a popular subject for them lately.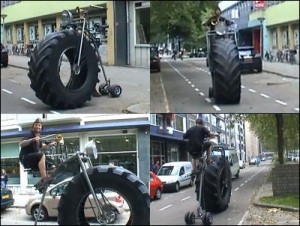 In keeping with the modern penny-farthing theme, here is one that is not quite as polished, but is definitely a head turner. Believe it or not, this monster trike is a fixed gear too (with a very low gear to get that big heavy tire rolling). I don't know how difficult this thing is to ride, but I would love to try it and find out for myself
The Bicycle is Art is a brand new blog, but they already have a couple of interesting posts. The "aluminum foil faux Porsche pedal car" almost challenges the Monster bike tall trike for sheer outrageousness…almost.